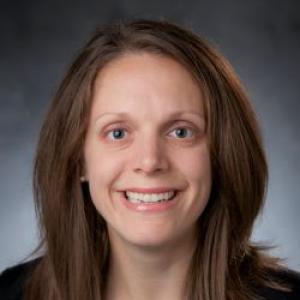 Executive Director, Regulatory Affairs and Quality
Contact Information:
Amanda Parrish, PhD, RAC is the Executive Director of Regulatory Affairs and Quality in the Office of Regulatory Affairs and Quality (ORAQ) within the Duke University School of Medicine. In this role, Dr. Parrish oversees a team of Regulatory and Quality professionals who provide guidance on FDA regulations for product development, clinical trials research, and manufacturing at Duke.
Dr. Parrish is responsible for providing support and guidance to investigators regarding the regulatory and quality requirements relevant to their clinical research activities. She performs a variety of services including regulatory/quality education, regulatory/quality consultation, and support for regulatory submissions. She supports Duke investigators and associated project teams with regulatory needs in a variety of therapeutic areas, including drug, biologic, and device regulatory submissions. She has conducted numerous meetings with the FDA, and her regulatory/GMP experience ranges from early Phase 1 activities through product licensing. She was the primary regulatory project leader for the US approval of the Carolinas Cord Blood Bank BLA and continues to support the regulatory and quality assurance activities associated with the Duke BLA. In addition, Dr. Parrish also oversees and manages implementation of new educational, operational, and collaborative initiatives within ORAQ.
After receiving her undergraduate degree in biology from Emory University, Dr. Parrish worked for two years in a laboratory performing prostate cancer research. She came to Duke University in 2004 to conduct her graduate research studies, where she obtained a PhD in Molecular Cancer Biology with a certificate in Cell and Molecular Biology. Her graduate research focused on regulation of the apoptotic cell death process. Following a short post-doc in her graduate lab and an internship with the Duke Translational Medicine Institute (DTMI) Regulatory Affairs office, in 2010, she moved into a role as a Regulatory Affairs Scientist at Duke University. Dr. Parrish holds the US Regulatory Affairs Certification (RAC) from the Regulatory Affairs Professional Society.