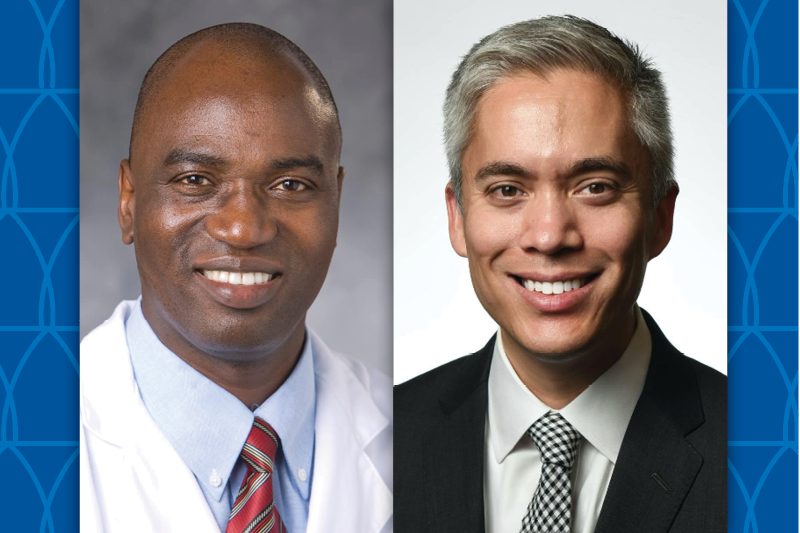 Two Duke School of Medicine faculty are among the 25 physician scientists who have received the Paragon Award for Research Excellence from the Doris Duke Foundation.  
Rasheed Gbadegesin, MD, Wilburt C. Davison Distinguished Professor of Pediatrics; and Andrew Landstrom, MD, PhD, associate professor of pediatrics, were honored during a ceremony that occurred on October 26.  
The Paragon Award is a one-time recognition that celebrates physician scientists who have significantly advanced knowledge toward the prevention, diagnosis, and treatment of human disease or who have, through their professional contributions, improved health outcomes of patients today. 
Gbadegesin's research is focused on understanding the critical pathways involved in developing nephrotic syndrome, a kidney disorder that causes the body to pass too much protein in urine, and in congenital malformations if the kidney and urinary tract. He and his group have established a phenotypic and biorepository database for more than 600 children with hereditary and sporadic nephrotic syndrome. Gbadegesin is a pediatric nephrologist who provides care for children with kidney disease. He also serves as the associate dean for physician-scientist development.  
Landstrom's research explores the genetic and molecular causes of arrhythmias, sudden unexplained death syndromes, and heart muscle diseases. He is working to identify the mechanisms of cardiovascular genetic disease with the goal of developing novel therapies. In the clinic, he cares for children and young adults with arrhythmias and genetic heart diseases. 
The Paragon Award is anchored in the conviction that to impact clinical outcomes, we need innovation on many fronts, the dedication of many to mentor, and the cultivation of promising ideas. Honorees, who are past recipients of the Doris Duke Foundation's Clinical Scientist Development Award, were selected based on their proven accomplishments.  
The Doris Duke Foundation supports the well-being of people and the planet for a more creative, equitable, and sustainable future. Through the Medical Research Program, the foundation strives to advance the prevention, diagnosis, and treatment of human disease by strengthening and supporting clinical research.