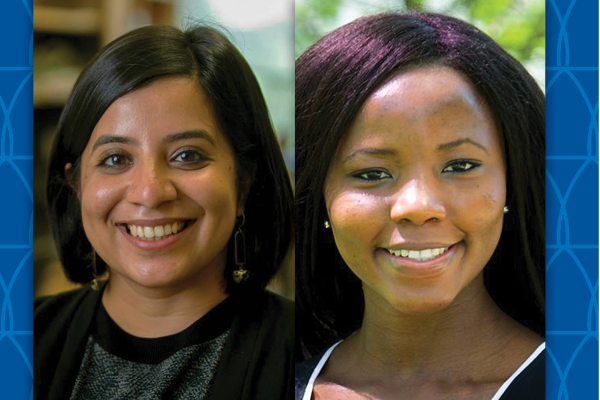 The National Institutes of Health (NIH) has awarded grants to two Duke University School of Medicine faculty members through the NIH Common Fund's High-Risk, High-Reward (HRHR) Research Program.  
Akankshi Munjal, PhD, assistant professor of cell biology; and Samira Musah, PhD, assistant professor of biomedical engineering, nephrology, and cell biology, will receive $1.5 million over the next two years through the program's New Innovator Award, which supports unusually innovative research from early career investigators who are within 10 years of their final degree or clinical residency and have not yet received an NIH R01 or equivalent grant. 
Munjal's research focuses on the principles of tissue morphogenesis using zebrafish. Her lab uses integrative systems approaches, including quantitative imaging, genetics, multi-scale perturbations, theoretical modeling and single cell RNA sequencing to study principles of morphogenesis using the embryonic zebrafish inner ear. 
Musah's research focuses on understanding how molecular signals and biophysical forces can function either synergistically or independently to guide organ development and physiology and how these processes can be therapeutically harnessed to treat human disease. Her lab focuses on engineering stem cell fate for applications in human kidney disease, extra-renal complications, and therapeutic development. 
The HRHR Program awarded 85 new research grants, totaling $187 million to support highly innovative scientists who propose visionary and broadly impactful behavioral and biomedical research projects in four categories: the Pioneer Award, New Innovator Award, Transformative Research Award, and Early Independence Award. 
"The HRHR program is a pillar for innovation at NIH, providing support to transformational research, with advances in biomedical and behavioral science," said Robert W. Eisinger, Ph.D., Acting Director of the Division of Program Coordination, Planning, and Strategic Initiatives, which oversees the NIH Common Fund. "These awards align with the Common Fund's mandate to support science expected to have exceptionally high and broadly applicable impact." 
The High-Risk, High-Reward Research program supports investigators at each career stage who propose innovative research projects that, due to their inherent risk, may struggle in the traditional NIH peer-review process. Investigators seeking program support are encouraged to think beyond traditional bounds and to pursue trailblazing ideas in any area of research relevant to the NIH's mission to advance knowledge and enhance health.