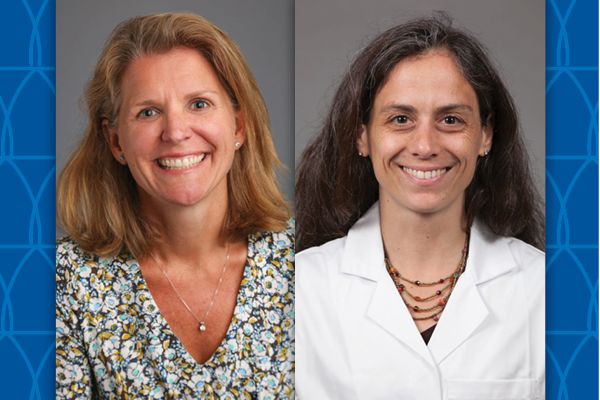 Betty Staples, MD, professor of pediatrics, and Jane Gagliardi, MD, professor of psychiatry and behavioral sciences, and professor of medicine are recipients of a one-year $50,000 Josiah Macy Jr. Foundation Catalyst Award for Transformation in Graduate Medical Education. This award funds projects in graduate medical education that support civility, psychological safety, and thriving in the clinical learning environment for residents and fellows. 
Staples works clinically in the Department of Pediatrics and with the Duke Center for Eating Disorders and has focused much of her career and scholarship on graduate medical education. She devotes time to work on improving the learning environment for trainees at Duke and nationally. 
Gagliardi's scholarship and advocacy for health equity, patient safety and quality improvement have been fueled by her work as a clinician at the interface of medicine and psychiatry as well as by leadership roles in undergraduate and graduate medical education. 
Staples and Gagliardi's project, The Civility Champions Project, will make use of the funds from the Macy foundation along with matching funds from the Duke Office of Graduate Medical Education to expand on a pilot project in the Department of Medicine, through which Gagliardi received training and is the leader of quarterly Civility Champions debriefs. They will enroll a cohort of 50-75 participants from six clinical departments to be trained as Civility Champions to increase their competence and comfort in providing restorative justice-based counseling to recipients of incivility and to increase their ability to recognize workplace incivility, intervene as an upstander, and model civil discourse utilizing principles of nonviolent communication with the goal of incorporating lessons learned in their teaching and leadership practice. 
"The Macy Foundation is delighted to support Drs. Betty Staples and Jane Gagliardi in their initiative to prepare residents to respond to instances of bias, discrimination, or abuse that they either experience or witness," said Holly J. Humphrey, President of the Josiah Macy Jr. Foundation. "This innovative intervention will offer key lessons on what is necessary to enhance civility and promote a culture of respect in the clinical learning environment."  
The Josiah Macy Jr. Foundation is the only national foundation dedicated solely to improving the education of health professionals. The Catalyst Awards projects explore innovative strategies to help learners combat microaggressions, harassment, bias, and discrimination in the clinical learning environment. Working together, faculty and learners pool their experiences and discoveries to evolve a set of best practices and actionable steps to support all learners. "We are proud to support initiatives that equip learners with the confidence, skills, and strategies to flourish in graduate medical education," said Humphrey.