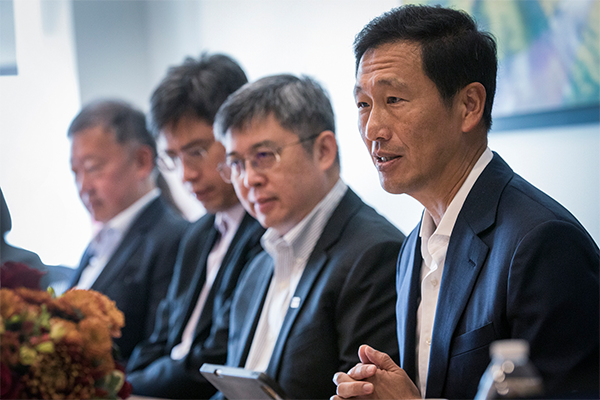 Singapore Minister for Health Ong Ye Kung led a delegation from the Ministry of Health, National University of Singapore (NUS), and Duke-NUS Medical School on a visit to Duke on Sept. 18 for a full day of meetings with leadership, faculty, and students as well as a visit to the Duke Outpatient Clinic. 
The visit, the first to Duke by a Singaporean minister since 2010, reaffirmed the nearly two-decade-long Duke-NUS partnership and included discussions covering topics ranging from precision medicine to accountable care.  
"We were delighted to host Minister Ong and his delegation during their visit to Durham," said Duke University President Vincent E. Price, PhD. "We are very proud of this partnership and the many ways Duke-NUS Medical School has advanced medical education and research in Asia and beyond." 
Duke, NUS, and the Singapore government collaborated to open the research-intensive graduate medical school in Singapore in 2005, with a curriculum designed to develop an exceptional pool of leaders and creative thinkers who would push the boundaries of medicine.  
In the years since, Duke-NUS has grown and expanded into a comprehensive academic medical institution conducting advanced biomedical research, educating health care leaders, and advancing patient care through an academic medicine collaboration with SingHealth, Singapore's largest public health care cluster, which includes a network of hospitals and specialist clinics.  
"Over the last 18 years, we have witnessed the maturation of a true academic medical center in Singapore through engagement with Duke and Duke faculty to the extent that partnership opportunities are now available in such areas as pandemic preparedness, global health, neuroscience, aging and others, and they span from basic to translational to clinical research and education," said Edward G. Buckley, vice dean for education in the School of Medicine and vice chancellor for Duke-NUS Affairs.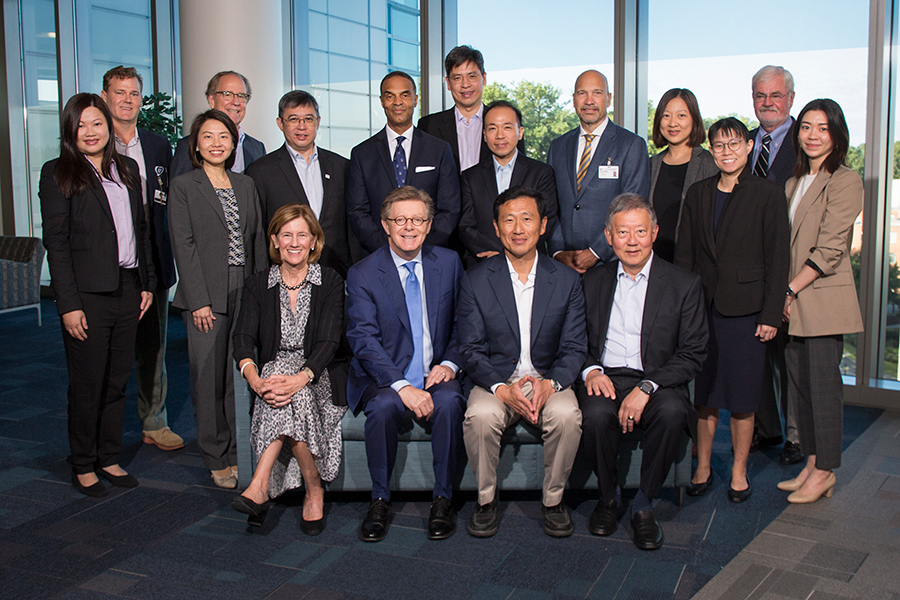 Ong and the delegation met with Price, Buckley, and other Duke leaders including Provost Alec D. Gallimore, PhD; Executive Vice President for Health Affairs and Duke University School of Medicine Dean Mary E. Klotman, MD; Duke University Health System CEO Craig T. Albanese, MD, MBS. 
"The world is faced with complex health care challenges requiring multidisciplinary approaches extending well beyond traditional medical fields, along with global collaborations built on trust," said Thomas Coffman, MD, dean of Duke-NUS Medical School. "At Duke-NUS, we train clinicians whose diverse, global perspectives enhance their accomplishments as learners, researchers and innovators, leading to better care for patients here in Singapore and around the world." 
The delegation held a series of focused talks with leading Duke faculty on topics of special interest, including data science and precision medicine; population health, health services research, and knowledge translation; and accountable care.  
In addition, Lawrence Greenblatt, MD, and Alex Han Cho, MD, MBA, gave the group an overview of the outpatient clinic operations, and the visitors also enjoyed a Carolina barbecue lunch and an informal gathering with Duke and Duke-NUS undergraduate and graduate students. 
"The partnership with Duke-NUS and our Singaporean colleagues enhances and expands the research impact of both institutions and provides invaluable opportunities for our faculty, students, and trainees, all in the service of our global community," Klotman said. "I look forward to continuing this exceptional collaboration for a long time to come."  
National University of Singapore Provost and Deputy President (Academic Affairs) Aaron Thean, PhD, echoed those sentiments. 
"With the strong support of the Singapore's government and a like-minded partner in Duke University, our collaboration has grown from strength to strength, creating a unique opportunity for students and faculty alike to contribute to Singapore's biomedical ecosystem," Thean said.