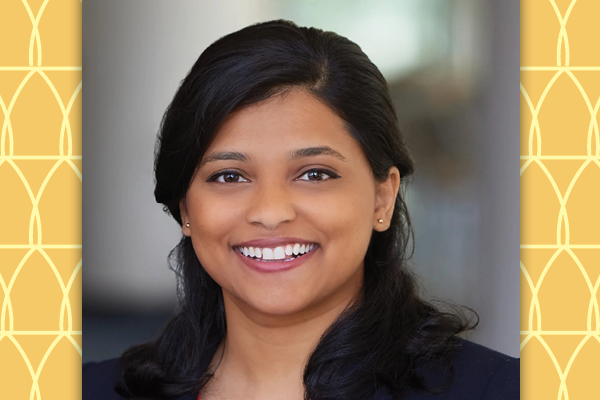 At 28, Shree Bose's resume has already acquired some impressive accolades: winner of the inaugural Google Science Fair in 2011: co-founder of Piper, a STEM education company that creates computer engineering kits for kids; a TEDx talk speaker; Harvard graduate; and even a star for Microsoft commercials. Now Bose has another feather for her cap: being named to the 2023 Forbes 30 Under 30 List in science. 
Bose is a student in the Medical Scientist Training Program (MSTP) and is currently back in her fourth year of medical school after successfully defending her PhD dissertation in May. Her PhD research evaluated the metabolic changes that occur when ovarian cancer metastasizes to the apron-like layer of fat called the omentum that overlays the abdomen.  
Working in the labs of Xiling Shen, PhD, former associate professor of biomedical research, and Chris Kontos, MD, professor of medicine, she was able to target a specific mechanism of oxidative stress compensation that is important for ovarian cancer cell survival in the fat-rich environment. 
Bose is currently applying to internal medicine residency and hoping to pursue a career as a medical oncologist. "I would love to craft a career where I'm able to make research discoveries in the lab and translate them to improve the lives of patients affected by cancer," Bose said. 
The Forbes 30 Under 30 is a set of 20 lists highlighting 600 individuals with emerging talent in several categories including science, healthcare, education, music, art and style, social impact and more. 
"Being on the Forbes 30 Under 30 List feels like an honor that I'm fortunate to accept on the behalf of so many people who have guided my journey: from the many mentors who have given me a chance as well as the friends and colleagues who have picked me up at so many points," Bose said. "It's an incredible honor to be a part of this selected few, but I feel like the recognition really belongs to the people who have made everything I have done possible."