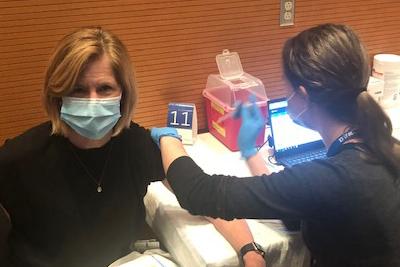 Duke medical and health professions students are playing a prominent role in the distribution of COVID-19 vaccines to the Duke Health community. 
More than 100 students from the School of Medicine have volunteered to assist with the administration of the vaccines at Duke vaccination sites. As of January 13, 2021, more than 18,000 vaccinations have been administered to Duke Health employees. Last week, Duke began vaccinating community members over the age of 75. 
Student volunteers have played a number of roles, including registering patients, educating patients about the vaccine, preparing and administering the vaccine, and observing vaccinated individuals for any immediate side effects. Students as well as other volunteers receive training and are overseen by a credentialled health care professional. All volunteers also are eligible to get a COVID-19 vaccine.
Margaret Weber, a first-year student in the Medical Scientist Training Program (MSTP), is helping with vaccine administration.
"With the strain on resources the pandemic has caused, I felt that volunteering at the vaccine clinic was a small way that I could help lessen the burden on healthcare staff and the barriers to vaccine roll out," said Weber. "Plus, the distribution of the COVID-19 vaccine is an incredible moment for medicine, science, and history, and I wanted to be a part of it."
Penny Wang, a student in the Master of Biomedical Science program in the School of Medicine, volunteered to help with vaccine preparation, which involves transferring the vaccine from vials to syringes. 
"I think with how everything has been this past year, we need some sort of light at the end of the tunnel, and I wanted to do something positive for the community," said Wang. 
In line with CDC and North Carolina state guidelines, vaccination of Duke Health staff working on the frontlines of the pandemic began three weeks ago, said Katrina Green, MSN, RN, administrative director for Duke University Health System Clinical Education and Professional Development. Green's unit has received an overwhelming response to its call for volunteers. 
"We have had amazing response, and the School of Medicine is strongly represented at our vaccine clinic," said Green. "Just last week we started our Community/Public Vaccine Clinic for those who are in the Phase 1B category, and the School of Medicine has been helping to support this clinic as well."
Phase 1b refers to patients who are 75 years or older and front-line essential workers.
 
"I am so pleased that our students have chosen to serve their community in this positive way," said Mary E. Klotman, MD, dean of the Duke University School of Medicine. "This speaks to the commitment of our students to our core value of service in solving real world problems."