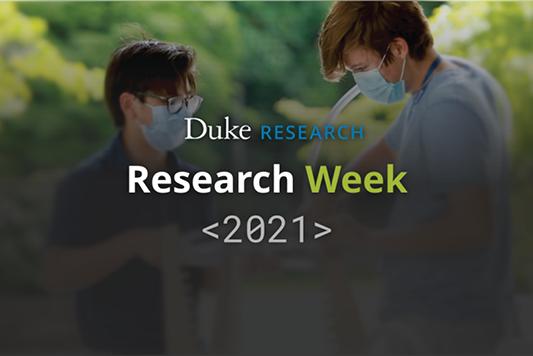 School of Medicine faculty and students played a prominent role in Duke University's inaugural Research Week held virtually January 25-29, 2021. The event, which was open to the public, and attended by more than 2,500 people, was an opportunity to showcase the extraordinary research accomplishments of faculty and students from across the university, and featured talks in the areas of SARS-CoV-2 testing, genome editing, quantum computing, political science, artificial intelligence, materials science, and more.
Colin Duckett, PhD, vice dean of basic science in the School of Medicine, kicked off the week by introducing a panel of researchers exploring innovative methods for SARS-CoV-2 testing and modeling. Among this panel of researchers was Tom Denny, MSc, M.Phil, chief operating officer for the Duke Human Vaccine Institute, who explained how his team used pool testing to track the prevalence of SARS-CoV-2 among students on Duke's campus in Fall 2020. Denny's team's method, which was highlighted by the Center for Disease Control and Prevention (CDC), was extremely successful in identifying asymptomatic individuals for further diagnostic testing and has been used as a nationwide model for keeping campuses safe. 
Pool testing is a surveillance system that allows researchers to test lots of samples quickly. Denny and his team were able to run 3,200 samples every 24 hours through laboratory equipment previously used for HIV testing and re-tooled for COVID-19.
"Pool testing is where you put a number of samples together, test them as a batch and then determine if you have a positive or negative within that particular batch," said Denny. "Pool testing goes back to the very early days of HIV when we had many of the same challenges as we have today, and that is that we did not have adequate reagents and test platforms and we wanted to test a lot of people on a daily basis."
Denny has also partnered with researchers across campus, including Steven Haase, PhD, associate professor of biology, and John Harer, PhD, professor of mathematics, to model results from the testing, and both also spoke at Research Week. Haase described his work analyzing data from wastewater samples across campus and comparing them to individual nasal swab data. Harer described the mathematical models he has developed to better understand and even predict viral spread.
Later in the week, another Duke University School of Medicine faculty member spoke about genomic editing research happening at Duke. In his talk "Decoding and Programming the Human Genome with CRISPR Technologies," Charlie Gersbach, PhD, Rooney Family Associate Professor of Biomedical Engineering, discussed the history of the genomic revolution, what genome editing is, how it is used and what is next in CRISPR technology.
While traditional CRISPR methods involve cutting DNA sequence using the Cas9 protein, Gersbach also highlighted his work using a "dead" Cas9 protein – dCas9 – to instead create molecular scaffolding to allow for epigenetic editing, which his lab recently used to create adult neuronal cells from stem cells.  Among his many other research milestones, in 2016 his lab used CRISPR to treat an adult mouse model of Duchenne muscular dystrophy which resulted in a 70 percent restoration of functional dystrophin and an increase in muscle strength in the mouse model.  
In a recent interview, Nobel Prize winner Jennifer Doudna noted Gerbach's research: "On the biomedical side, I'm really excited about the work of Charles Gersbach at Duke University." 
The future of genome engineering is exciting, and Gersbach is staying on the forefront. He and six other PIs from Duke were awarded an NIH Center of Excellence in Genome Science grant this past fall and have created the Center for Combinatorial Gene Regulation to develop technology that will make studying the complexities of combinatorial gene regulation not only possible but also routine.
School of Medicine students and trainees also gave talks during Research Week:
Michael Borack, PhD, a postdoc in the Center for the Study of Aging, presented his research about protecting muscle during obesity reduction.
Anne Draelos, PhD, a postdoc in the Department of Biostatistics and Bioinformatics, spoke on her lab's research developing a way to map neural responses in the brain.
Diana Li, PhD, a postdoc in the Department of Medicine, presented her research on the gut-brain connection, and how GI disorders and mental illnesses might be treated simultaneously.
Shiyi Wang, PhD, a postdoc in the Department of Cell Biology, explained how star-shaped brain cells called astrocytes play a role in the pathogenesis of Parkinson's disease.
Sharmi Amin, an undergraduate working with Sallie Permar, MD, explained how exploring human cytomegalovirus lineage may help reverse engineer a vaccine against it.
Megan Zhao, an undergraduate working with Everardo Macias, PhD, investigated the role of NUAK2, a gene that may be important for prostate cancer disease progression. Megan won first place in the poster competition.
Jamie Lim, an undergraduate working with Audrey Dickey, PhD, presented analyses of next generation sequencing datasets for meta-analysis of microRNA let-7 expression across several neurodegenerative diseases.
Molly Chakraborty, an undergraduate working with John Sampson, MD, PhD, explained how the gene CaMKK2 could become a promising therapeutic target for treating glioblastoma.
Brennan Simon, an undergraduate working with Anne Marie Pendergast, PhD, described possible therapeutic targets that could become the focus of future drug discovery efforts to treat lung cancer brain metastasis.
Lauren Sheu, an undergraduate working with Smita Nair, PhD, presented her research on the role Matrigel plays in immune cell infiltration in solid tumor models.
Linda Tang, an undergraduate working with Anna Mae Diehl, MD, explained how aging can inhibit liver repair through a dysregulation of the Hedgehog signaling pathway.