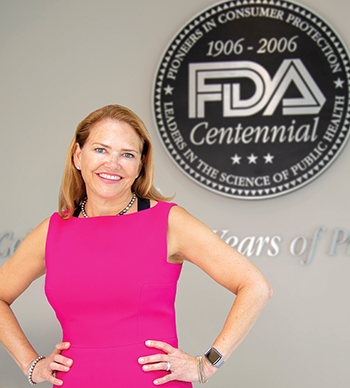 A longtime advocate for the marriage of technology and data to advance health care, Amy Abernethy, MD'94, HS'94-'01, PhD, envisions a future in which the two are as ubiquitous and easy to use in the medical field as tongue depressors.
As the newly appointed principal deputy commissioner of the U.S. Food and Drug Administration (FDA)—the highest position at the FDA that is not a political appointment—Abernethy has a national platform in which to help advance personalized medicine.
"That has been my passion since I was a professor at Duke," she says. "How do we streamline clinical results? How do we make sure the drug development process is as efficient as possible to get treatments into the hands of the patients who need them?"
Abernethy is an internationally recognized expert in clinical trials, cancer outcomes research, health policy, and patient-centered care. For more than a decade she has pioneered the development of technology platforms to spur advancements in cancer and care of people with chronic illness. She helps oversee the FDA's day-to-day functioning and directs special and high-priority cross-cutting initiatives that impact the FDA's regulation of drugs, medical devices, tobacco, and food. She focuses on areas such as precision medicine, digital health, and real-world evidence. As acting chief information officer, she oversees the agency's data and technical vision and execution.
One area she is keen to improve upon is the use of electronic health records to expedite clinical research. But she cautions that systems need to be built with patient care in mind—a capability she championed during her time in the health-tech industry before joining the FDA.
"We cannot build systems that make the lives of doctors and patients harder," she says. "The systems need to be streamlined to make it easier for doctors to spend more face time with patients."
From 2001 to 2015, she was a professor of medicine at Duke University School of Medicine and led the Center for Learning Health Care and the Cancer Care Research Program. Her interest in data collection and analysis was ignited during that time while treating patients with advanced melanoma and seeing potentially helpful drugs hung up in the long development and approval process. She became determined to find ways to speed it up while maintaining the rigor needed for clinical research.
"Fourteen to seventeen years to get from promising medical treatment to doctors and patients is way too long," she says. "How we generated the necessary data felt so broken." In 2005-2006, Abernethy was ahead of the times when she introduced tablet computers and a patient-reported outcomes survey, with questions relating to symptoms and quality of life, in the Duke cancer clinics.
"The idea was, can we continuously ask patients these questions and get reliable information for clinical trials and clinical care from these surveys plus their electronic health records?" she said. "We showed that we could create very personalized care and push the research agenda along at the same time.
"Abernethy received her medical degree from Duke, where she also completed her internship and internal medicine residency, serving as chief resident. She completed a hematology/oncology fellowship at Duke, then earned a PhD in evidence-based medicine and clinical informatics from Flinders University in Australia.
Prior to her appointment at the FDA, Abernethy was the chief medical officer, chief scientific officer, and senior vice president of oncology at Flatiron Health, a health tech startup company recently acquired by the drug company Roche. The firm's business model uses de-identified data from patient health records to accelerate clinical research.
When Abernethy was appointed to the FDA, Duke University School of Medicine Dean Mary E. Klotman, BS'76, MD'80, HS'80-'85, said she was a great fit. "Dr. Abernethy has the experience, passion, and vision to make a meaningful impact at the FDA, and more importantly for patients," Klotman said. "She is a great choice for deputy commissioner."
Robert Califf, BS'73, MD'78, HS'78,'80-'83, the Donald F. Fortin, MD, Professor of Cardiology and the vice chancellor for Health Data Science at Duke Health, who was FDA commissioner in 2016-2017, said, "I think it's really good for the country. I'm really excited about it."
Abernethy's time at Duke prepared her for her current role. "I learned to ask big questions and that patients matter first," she says. "I learned an incredible amount about leadership and how to work together. These are fundamentals of my day-to-day job."
Abernethy and Steve—her husband of 25 years, who leads a company in Florida—continue to live in Cary, North Carolina, commuting home on weekends. They have a son, Cameron, who is a freshman at Davidson College, and a daughter, Casey, a high school senior at Cary Academy.
Abernethy says she's looking forward to attending her 25th medical reunion at Duke this November.
"My friends from medical school are friends for life," she says. "There's something about having gone through it together as medical students and residents that is particularly poignant in one's life."