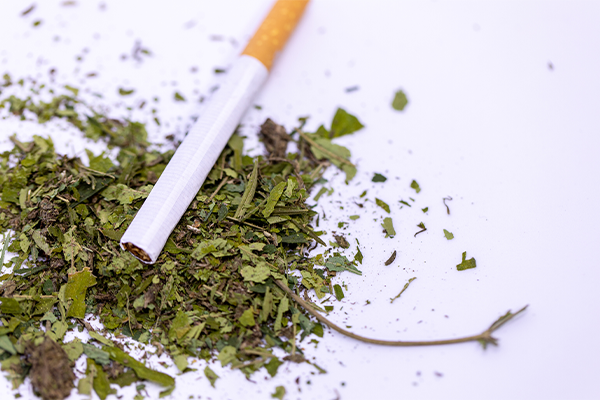 Duke University School of Medicine's study in the November issue of Addictive Behaviors finds that chronic pain isn't just associated with tobacco or cannabis use, but often both.  
The study's analysis of 32,014 adults showed those who reported a tough week of moderate to severe pain were twice as likely to use tobacco and 1.5 times more likely to cope with cannabis.  
However, those in pain were almost three times as likely to report both tobacco and cannabis use, according to the study. 
The findings by researchers in the Duke Department of Psychiatry and Behavioral Sciences add a new dimension to the ongoing conversation about pain management: addressing the challenges of quitting smoking or cannabis use can't be overlooked. 
One out of every five adults in the United States experiences chronic pain. As marijuana legalization and popularity rise, some of these individuals might be turning to cannabis for self-medication. 
"We definitely need to dig deeper into the interplay of pain and substance use. If you're studying one, you really ought to be considering the other too," said lead study author Dana Rubenstein, a medical student at Duke School of Medicine whose research is supported by a predoctoral scholarship from the National Institutes of Health.  
Insights from such studies might reshape interventions and affect policies around tobacco and cannabis products and legalization.  
Rubenstein collaborated with study co-authors Maggie Sweitzer, PhD and Joseph McClernon, PhD, tobacco policy researchers in the Department of Psychiatry and Behavioral Sciences and members of the Brain Imaging and Analysis Center.  
Sweitzer pioneers research connecting nicotine use to factors like childhood trauma and chronic pain, while McClernon's research delves into tobacco use and regulation of tobacco products in the U.S.  
Taking a closer look, the study showed people in serious pain are more inclined to exclusive use of tobacco rather than cannabis alone. Still, the significant risk among chronic pain sufferers for using both tobacco and cannabis, is striking, the authors said.  
Dual use may be due to the combination of tobacco's and cannabis's effects on pain. Animal studies have shown potential synergistic antinociceptive effects when both substances are used together. 
However, co-use may also come with potential drawbacks.  
It could amplify the risks, from increased dependence on both substances to a range of psychosocial and psychiatric concerns.  
Researchers looked at data from the 2018-19 Population Assessment of Tobacco and Health (PATH) study at a single point in time rather than tracking changes over time. As such, direct cause and effect can't be conclusively determined.  
But it begs the question: does pain lead to increased substance use, or does the use of these substances exacerbate pain? 
Authors suspect that using both substances together could make the pain even worse, and the pain might, in turn, drive people to keep using them. 
"While the short-term relief from pain might motivate individuals to use or co-use these substances, we must also consider the long-term effects," said Rubenstein who is pursuing a Master of Health science degree in clinical research and conceptualized the study and led the analysis.  
Besides the chance of more severe pain, co-use increases the risk of becoming addicted to nicotine and cannabis and presents additional health problems beyond the individual effects of each substance, she said. 
---
Additional authors include Jessica M. Powers of Syracuse University; Elizabeth R. Aston of the Brown University School of Health and Francis J. Keefe of the Duke Department of Psychiatry and Behavioral Sciences.