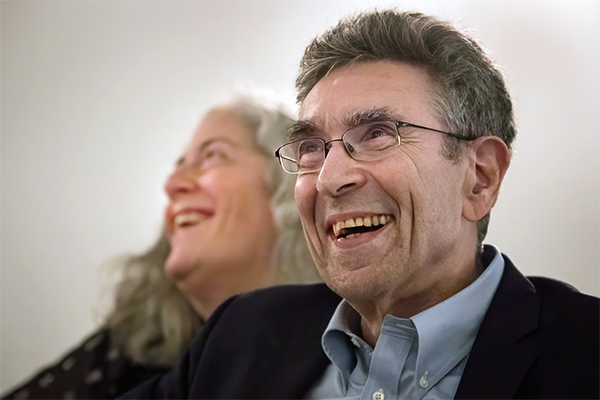 After completing a residency and fellowship at Harvard and Massachusetts General Hospital, Robert J. Lefkowitz, MD, arrived at Duke University School of Medicine to begin his first faculty job in the summer of 1973. 
He's been here ever since — conducting pioneering research that has changed the landscape of medicine, mentoring more than 200 trainees, and becoming Duke University's first Nobel Prize winner, when he was awarded the 2012 prize in chemistry.   
On Oct. 2-3, the School of Medicine hosted a remarkable gathering of luminaries (including seven Nobel Laureates, two former chancellors, and a five-time NCAA championship men's basketball coach) for a symposium to celebrate Lefkowitz's 50 years at Duke and the discoveries that advance human health.  
Duke University Executive Vice President for Health Affairs and School of Medicine Dean Mary E. Klotman, MD, welcomed the large audience in Page Auditorium. She noted that Lefkowitz's rise as a pioneering biomedical scientist and Duke's rise as a world-class biomedical institution went hand in hand. Duke provided Lefkowitz with the resources, intellectual freedom, and trainees and colleagues to pursue his groundbreaking research. In turn, his excellence, mentorship, and championing of basic science have attracted other top scientists and elevated Duke's research environment.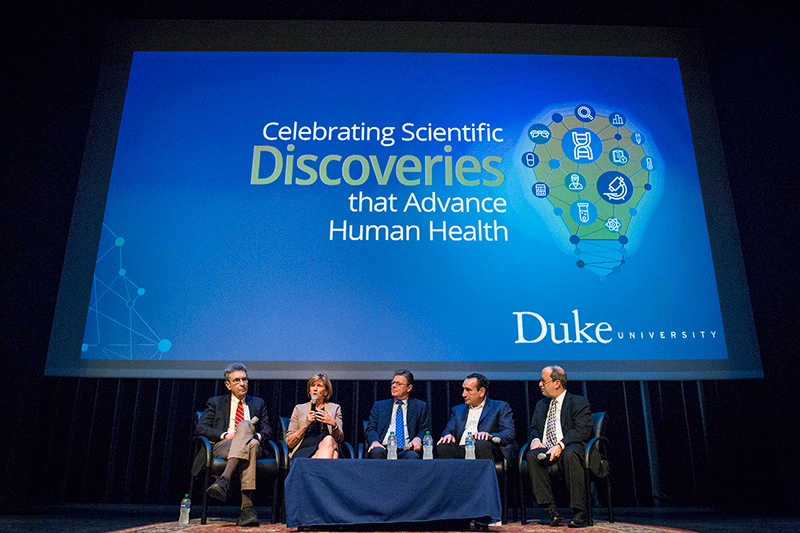 "Duke wouldn't be the same if not for Bob, and Bob wouldn't be the same if not for Duke," she told the large audience. "We are here to celebrate the golden anniversary of a remarkable relationship." 
The event featured lectures by some of the world's leading researchers, reminiscences from some of Lefkowitz's closest friends and colleagues, and words of wisdom for students, trainees, and junior faculty about how to achieve and sustain success, in science and in life.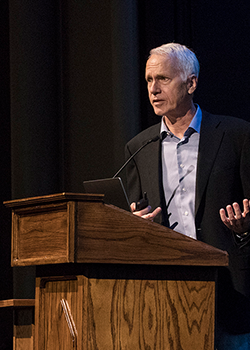 Participants included Nobel Prize Laureates Peter Agre, MD; Michael S. Brown, MD; Joseph Goldstein, MD; Roderick MacKinnon, MD; Stanley Prusiner, MD; Harold E. Varmus, MD; and Brian Kobilka, MD, who was a postdoctoral fellow in Lefkowitz's lab and shared the 2012 Nobel Prize.  
Also taking the stage were leading scientists including Helen H. Hobbs, MD; Gary H. Gibbons, MD; Irving L. Weissman, MD; and Stuart H. Orkin, MD, as well as a host of Duke leaders past and present. Lefkowitz and Klotman joined Duke University President Vincent E. Price, PhD, and former Duke men's basketball coach Mike Krzyzewski for a lively panel discussion on "Sustaining Success in the Spotlight."  
Chancellor Emeritus for Health Affairs Victor J. Dzau, MD, recalled "how exciting it was to be here as chancellor and bathe in his glory" when Lefkowitz won the 2012 Nobel Prize for his pioneering research on G-protein coupled receptors, which provided the targets for more than one-third of all current prescription drugs. 
"For fifty years Bob has been an icon, a role model, and a scientist whose contributions have changed and saved so many lives," said Dzau, now president of the National Academies of Sciences, Engineering, and Medicine.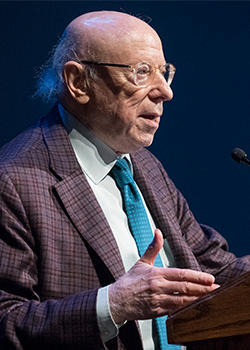 Agre, who won the 2003 Nobel Prize in Chemistry and was vice chancellor for science and technology at Duke from 2005-2008, presented his recent research on malaria in sub-Saharan Africa. He also recalled the moment that all Nobel Laureates remember: that life-changing phone call from Sweden. "It's a very pleasant experience," he admitted. 
Goldstein, who won the 1985 Nobel Prize in Physiology or Medicine, first met Lefkowitz in 1968 when they were in the same cohort of "Yellow Berets" — young physicians commissioned into the National Institutes of Health and the Public Health Service during the Vietnam War. He urged young researchers to approach science with a sense of adventure.   
"Have the courage to take risks," he said. "Try new approaches and avoid bandwagon research. If scientists don't take risks, science will stagnate."  
Varmus, who won the Nobel Prize in Physiology or Medicine in 1989, was a medical school classmate of Lefkowitz's at Columbia and also a fellow Yellow Beret.  
"The scientific life has changed in many ways, but discovery remains a joy," Varmus said. "The path to a career is longer and harder, but there are more branches to choose from. The demography of science has become more diverse, but we still have a long way to go. Basic and applied science have moved closer together, but the demand for application threatens broad inquiry. One thing remains the same: friendships are essential for a fulfilling life in science."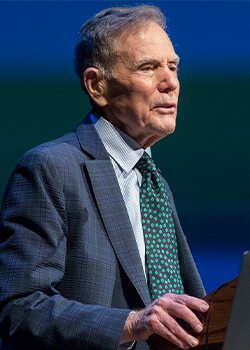 One of Lefkowitz's closest friends, Duke Chancellor Emeritus for Health Affairs Ralph Snyderman, MD, joined the faculty in 1972, just before Lefkowitz did. The two soon took up the habit of running together — an activity they continued, five or six days a week, for some 30 years.  
"We once calculated that we ran over 50,000 miles together," Snyderman said. "We were like brothers without the sibling rivalry. What I think differentiates Bob as a scientist is the courage to do the really hard experiments and the persistence to stick with it. He has incredibly high standards. He's totally focused, and he is totally committed to the people who work with him." 
Lefkowitz himself spoke passionately about the need for young scientists to find the right mentor. For many of them over the past 50 years, that mentor has been Lefkowitz: many of his trainees have achieved great prominence and won major awards, including the Nobel Prize. He succeeds, he said, when they succeed. 
"I've never led anything bigger than my lab," he said. "But I've tried very hard to help my trainees use their powers to maximum effect. Training in science is an apprenticeship. It's experiential. It requires you to pour yourself completely into your goal." 
Lefkowitz, who turned 80 in April, was moved by the large contingent of alumni from his lab who returned to Duke to reconnect and share in the celebration.  
"What an incredible few days we just shared," he said. "I want to thank everybody who took the time to join in, and especially those who came from long distances to help me celebrate these two very special landmarks in my life. Never have the words been truer than when I say, 'I couldn't have done it without you.'" 
---
Photos by Chris Hildreth/Rooster Media