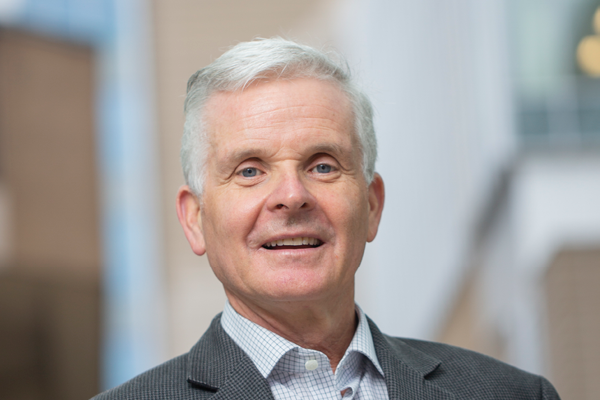 On January 27, 2023,  the Food and Drug Administration approved a new targeted therapy for hard-to-treat advanced breast cancers. Its development was made possible by research and advocacy from the lab of Donald McDonnell, PhD, Glaxo-Wellcome Distinguished Professor of Molecular Cancer Biology in the Department of Pharmacology and Cancer Biology. 
The new drug, elacestrant, addresses a significant unmet need. It is the first and only treatment approved specifically to fight breast cancers with mutations in an estrogen receptor called ESR1, which make breast cancers resistant to standard endocrine therapy. These mutations are present in up to 40 percent of advanced or metastatic breast cancers that are positive for the estrogen receptor and negative for a receptor called HER2, according to a release from the drug's developer.  
The drug was also approved for use in patients with metastatic disease whose tumors progress while on standard-of-care endocrine therapies. 
"We believe that elacestrant has the potential to become the endocrine therapy of choice in late-stage breast cancer," McDonnell said. 
The treatment was originally developed to treat hot flashes in post-menopausal women, but it was never approved for that use. Clinical trials showed that the drug stopped hot flashes at low doses, but at higher doses it increased them. That finding intrigued McDonnell and the researchers in his lab. "We love drugs that don't work the way they're supposed to or demonstrate peculiar pharmacology. You can learn a lot by defining the mechanism of action of such drugs," McDonnell said.  
In 2012, Suzanne Wardell, PhD, (today an assistant professor working in McDonnell's lab) and Erik Nelson, PhD, (then a postdoctoral trainee and now a faculty member at the University of Illinois) began studying elacestrant in human breast cell lines and found that it blocked estrogen from binding to its receptor, thus stopping cell growth. 
They also found that the drug reduced the expression of the estrogen receptor in breast cancer cells, then further showed that the drug effectively inhibited the growth of estrogen-receptor- positive tumors in mouse models of breast cancer. The team published these findings in the journal Endocrine-Related Cancer on July 10, 2015. 
Not wanting the drug to be forgotten, McDonnell and colleagues filed patents covering its use in breast cancer and then persuaded the owners of the drug, Radius Health, Inc., to develop it for the disease. In 2017, McDonnell's team licensed their patents to Radius, and the drug's clinical development for breast cancer began. 
In a phase 3 clinical trial known as the EMERALD trial, led by an investigator from Harvard medical school, elacestrant reduced the risk of progression or death by 45% compared to standard of care. The medial progression-free survival time was 8.6 months on elacestrant, compared to 1.9 months for the standard of care treatment, according to a press release from Radius and Stemline Therapeutics, Inc., the company that will commercialize the drug in the United States. 
Adapted in part from a Duke Cancer Institute story written by Julie Harbin.