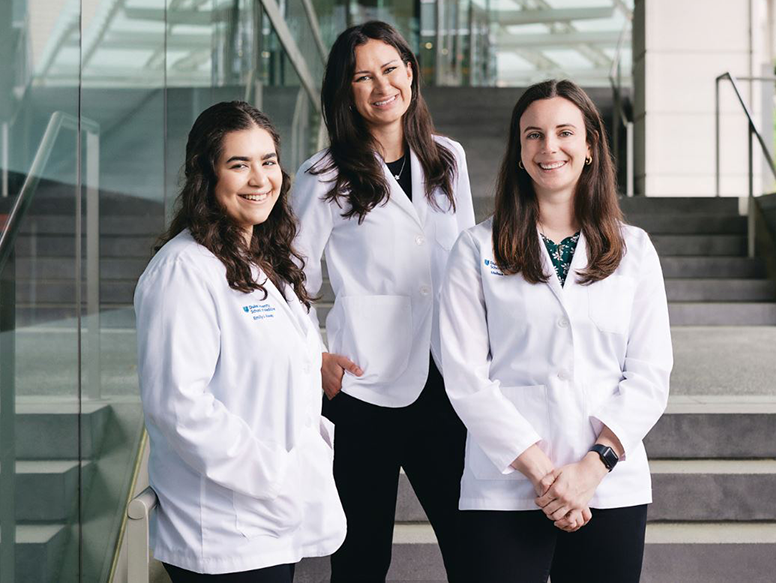 Pictured above: Emily Alway, Seneca Oxendine, and Melissa Greene. Photo by Alex Boerner.

Third-year Duke medical student Emily Alway grew up near Detroit, but every July, her family would travel to North Carolina for Lumbee homecoming, which includes a parade and a pow-wow. The Lumbee Tribe is the largest Native American tribe in North Carolina, and its members have traditionally lived in Robeson, Cumberland, Hoke, and Scotland counties in the southeastern part of the state.
Alway chose Duke for medical school in part because of its proximity to the tribe.
She is one of three current Duke medical students who have Lumbee heritage. Being Native American has influenced each of them in different ways, but all said it's part of what inspires them as they pursue medicine. Alway, a student in the Medical Scientist Training Program, said that the feeling of isolation that can come from being Native American helps her relate to patients. "When I walk into a room, I am often the only Native person there," she said. "I'm almost certainly the only Lumbee person there. That was especially true having grown up outside of North Carolina." "It gave me a unique lens through which I can understand my patients who feel like they are walking this medical journey alone," she said. "Many of them have things going on that they do not understand, and that maybe even the medical team around them doesn't fully understand because they have such a confusing constellation of symptoms."
Alway hopes to start a group at Duke to encourage conversations about Indigenous people in medicine. "It's very important for students and prospective students to see that there is a community here," she said.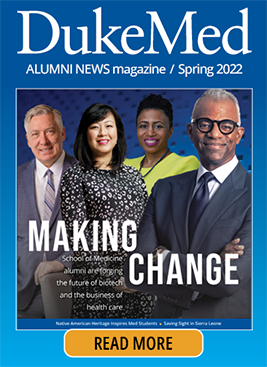 Native Americans make up 3% of the population in the United States, but they account for less than 1% of physicians in the work force. And less than 10% of medical schools have more than four Native American students, according to the Association of American Medical Colleges.
Alway recently joined the lab of neuroscientist Diego Bohórquez, PhD, who studies the gut-brain connection. "My project will probably focus on how the gut senses sugar and how sensory signals from the gut change the way we eat," she said. "Why is it that people with a depressed or anxious brain end up craving sugar?"
She wants to help reduce health disparities in Native American communities, many of which have inadequate access to health care and high rates of metabolic diseases like diabetes and heart disease, mental health issues, and substance abuse, she said. According to the Indian Health Service, the life expectancy of Native Americans is 5.5 years less than the U.S. all-races population.
First-year student Seneca Oxendine, also in the Medical Scientist Training Program, grew up believing she could do something extraordinary. She was inspired by her paternal grandfather, Thomas Oxendine, who was the first Native American to be commissioned as a pilot in the U.S. Navy, during World War II.
Her father's work as a lawyer piqued her interest in medicine. She remembers hearing about one case in which a man had become a quadriplegic because of a car accident. "That was a split second in which, through no fault of his own, he was paralyzed forever. And there really wasn't anything that the doctors could do to fix that," Oxendine said.
As an undergraduate at Yale, she conducted research trying to understand how a major class of receptors that are involved in memory (NMDA receptors) shape the cortical circuit during development. During a gap year, she studied the role of immune system cells called B cells in myasthenia gravis, a rare autoimmune disease. Oxendine plans to become a clinical neurologist who conducts basic research into the complex mechanisms behind neurological dysfunction, including injury and brain tumors.
First-year medical student Melissa Greene, MSBS'20, grew up in Pinehurst, not far from Robeson County. She often visited her maternal grandmother, who is Lumbee. "Everyone in the community knows my grandmother. It's like one big family," she said. "And I've always wanted to make her proud."
Greene loves the diversity of the Lumbee population. "It's a community that is very inclusive of everyone and wants to support each other," she said.
She wants to become a gynecologic oncologist, a specialty in which she would train in both medical and surgical treatment of cancers. "You get to know your patients very well," she said. "You treat them in a longitudinal manner instead of just completing the surgery and hoping they don't need you again."
"Once I gained interest in medicine, I realized that Native Americans are one of the least represented minority groups in medicine," Greene said. "That is inspiring me to want to keep going and to help change that."
Story originally published in DukeMed Alumni News, Spring 2022.