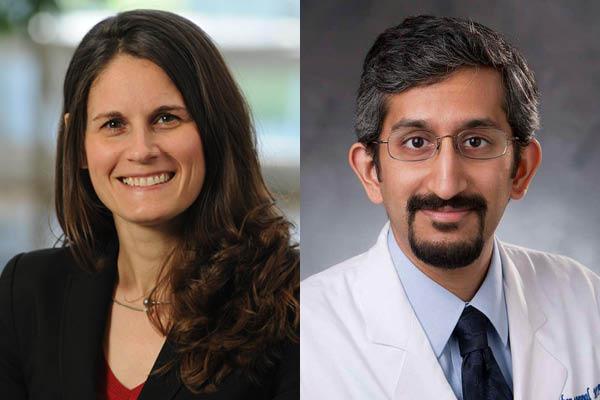 Two School of Medicine faculty members — Susanna Naggie, MD, and Sudarshan Rajagopal, MD, PhD — have been elected to the American Society for Clinical Investigation (ASCI). Naggie and Rajagopal are two of 95 new members elected to the society for 2022. They will be officially inducted at a joint meeting of ASCI, the Association of American Physicians (AAP), and the American Physician-Scientists Association (APSA) on April 8, 2022.  
Founded in 1908, the ASCI is one of the nation's oldest and most respected nonprofit medical honor societies and is focused on the role of physician-scientists in research, clinical care, and medical education. 
Naggie is an associate professor of medicine and vice dean for clinical research. She focuses on the care of patients with HIV and viral hepatitis and leads a research program aimed at understanding the mechanisms of accelerated liver fibrogenesis in this patient population and the development of biomarkers to guide medical decision making. 
Rajagopal is an associate professor of medicine and assistant professor in biochemistry. He also serves as co-director of the Duke Pulmonary Vascular Disease Center. He has a research focus on G protein-coupled receptor signaling in inflammation and vascular disease and a clinical focus on pulmonary vascular disease.