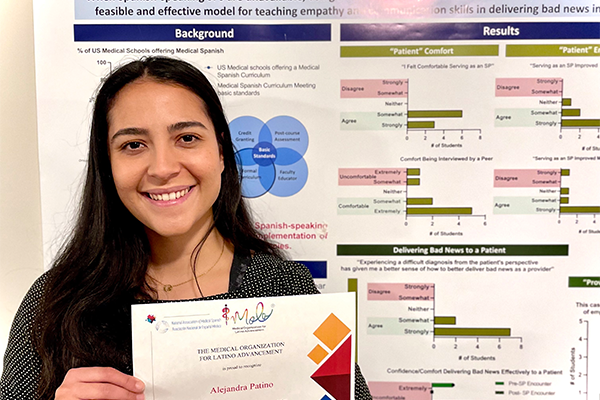 A student-led presentation by teaching assistants for the Medical Spanish Course at Duke won second place in a poster competition at the Joint National Meeting for the Medical Organization for Latino Advancement (MOLA) and the National Association of Medical Spanish (NAMS) (VII MOLA LatinX Health Symposium 2023 and the IV Medical Spanish Summit) held in Chicago on October 13 and 14.  
Medical Scientist Training Program student and teaching assistant Alejandra Patino and Liza Genao, MD, assistant professor of medicine and course director, presented the poster titled, "Medical Students as Standardized Patients: A Case for Improving Empathy in the Delivery of Bad News in Spanish," at the symposium. The poster won second place in the Medical Spanish Category.  
The poster highlighted scholarly work completed in Duke University School of Medicine's Advanced Clinically Centered Education in Spanish (ACCES) course, which is a first-year elective. The course is a clinically centered educational experience in Spanish designed to help medical students become culturally competent Spanish-speaking health care providers. 
In addition to Patino, other poster contributors include Carmen Rauh, MS; Leonor Corsino, MD, MHS; and Liza Genao, MD  
The meeting was sponsored by MOLA and NAMS. This year's theme was "Bridging the Gap Through Connections."