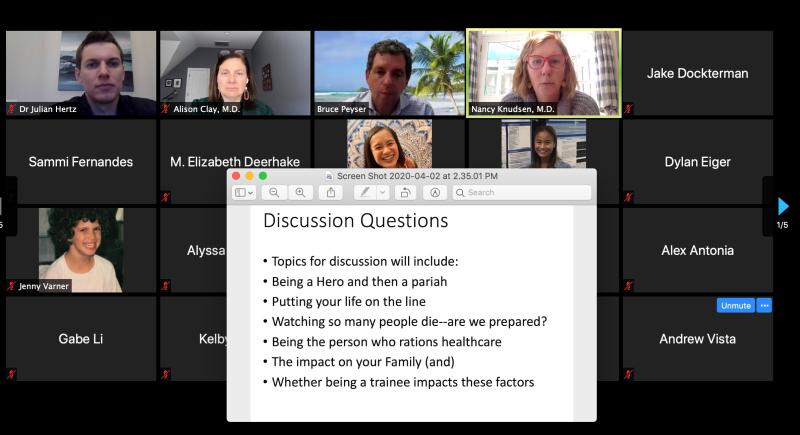 The arrival and rapid spread of COVID-19 in mid-March disrupted virtually all normal operations at Duke. Administrators, faculty, students, and staff had to move quickly to revise plans, adapt procedures, move operations, and improvise on the fly.
For School of Medicine faculty and medical education leaders, the outbreak presented a unique challenge. COVID-19 hit mid-semester, and with on-campus instruction suspended and non-essential access to the hospitals and clinics restricted, the medical education teams had to invent new approaches to replace nearly all normal classroom, clinical education, and student research experiences. The MD, Physician Assistant, Doctor of Physical Therapy, and graduate medical education programs all had to convert to new ways of teaching and learning in a matter of days.
The MD program came up with separate strategies for each of the four cohorts of medical students, from first-year students still learning the basics to fourth-years just a few months way from beginning their residencies and internships.
"Our faculty got very creative in coming up with new ways to deliver instruction, and the medical education IT and AV folks have been outstanding in setting everybody up with platforms for remote delivery."
- Ed Buckley, BSE'72, MD'77, HS'77-'81
Vice Dean for Education
Alison Clay, MD, assistant dean for clinical education, and Nancy Knudsen, MD, assistant dean for leaning environment, even developed a crash course called "Responding to Pandemics: Past, Present, and Future," to give medical students perspective on the current situation.
Under the Duke medical curriculum, the core basic sciences are taught during the first year. The School of Medicine's "flipped classroom" model, which emphasizes small-group and problem-solving projects, turned out to be well-suited for transition to video chat and other virtual platforms. Most courses made that shift relatively smoothly.
The second-year clinical skills rotations were more challenging. Students rotate among core clinical clerkships in eight areas—medicine, surgery, pediatrics, and so on—seeing patients and learning to take histories, perform exams, and provide clinical care.
COVID-19 forced the school to pull those students out of the clinical environment and innovate a new timetable.
Each of the eight core areas includes a didactic component—lectures or small-group activities—along with the clinical experience. Since students can't access the clinics, they are using remote learning platforms to "front-load" the didactics for all of their remaining clinical areas. That will take them until roughly mid-June—by which time administrators think they might be able to return to the clinics. Then, with all their didactics complete, they will spend most of their time seeing patients.
Medical students spend the third year conducting original research or other scholarly investigation. COVID-19 forced the suspension of most ongoing research at Duke, as much of the on-campus research operations pivoted to COVID-19.
Fortunately, most third-year students were nearing the end of their projects by mid-March. Some had already completed the laboratory or field portion and can finish the writing phase remotely. For students whose projects were cut short, their faculty mentors have been asked to develop alternate educational programs to complete the remainder of the semester.
Fourth-year students do elective clinical rounds. Most are scheduled to begin residencies in June. They have been allowed to continue to work in the clinical setting. They can continue to learn and will also make valuable contributions to Duke's health care mission, helping manage caseloads to free frontline providers to care for COVID-19 patients.
All the other degree programs within the School of Medicine have taken similar steps to enable instruction to continue. The Duke Physical Therapy (DPT) program is conducting classes virtually, using Zoom as the primary platform, and has revised its curriculum to front-load didactic content and move its psychomotor and lab-based skills instruction later in the year, whenever students and faculty are cleared to return to campus.
Students in the Physician Assistant (PA) program are taking their first preclinical year classes remotely. Second-year PA students have transitioned to a virtual didactic curriculum to supplement the clinical experiences they will conduct when they are able to return to the clinical training environment. Exam administration is occurring remotely, and the program has piloted standardized patient interviews through Zoom.
Buckley says he's proud of the spirit shown by School of Medicine students at all levels.
"They're volunteering in clinics, calling patients, serving as support resources, even doing community services like delivering food in addition to health care," he says. "They could just as easily have said, 'I'm going to go home and hibernate.' Instead they've stepped up and said, 'How can I help?'"