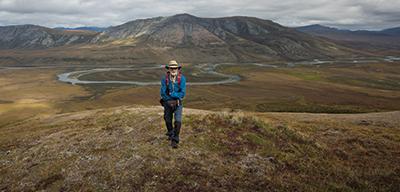 For Andrew "Tip" Taylor, MD'68, the proverbial fountain of youth isn't a fountain at all, but a river. Actually, lots of rivers.
For more than 40 years, Taylor—a renowned nuclear medicine physician and ambitious outdoor adventurer—and his friend Jim Slinger have connected for a yearly 3-to-4-week canoe and backpacking trip in northern Alaska and Canada. It's not a casual undertaking: a bush plane deposits them in the remote wilderness, and until it returns to fetch them weeks later, they're on their own in the wild, making their way through grizzly bear country.
With both men well into their 70s, and their strenuous excursions not for the faint of heart, the duo caught the attention of The Muir Project, which makes films that "seek to inspire others to share in the beauty that is our world."
A three-person film crew joined Taylor and Slinger on their 2015 trip to the Noatak River in the Arctic National Park. The result was an award-winning short film, Noatak: Return to the Arctic. Taylor and Slinger had taken the same trip 35 years earlier.
The film espouses the beauty and healing power of raw wilderness and the uplifting spirit of enduring friendship. It was selected as a Banff Film Festival finalist and by National Geographic in 2018 for its Short Film Showcase.  
"It was certainly fun," Taylor says of being in a documentary film. "It was interesting, because I had no experience on how a film is made. Nothing was scripted. They'd just ask us questions."
 He also wasn't aware that he and his friend would inspire legions of viewers. Comments posted on YouTube about the film express admiration for the pair's youthful zest for life, including:
Continuing to make life an adventure at that age…. is an act to inspire.
As a 20-year-old, I'm excited to start my life's adventures.
I could watch them for hours and listen to their stories.
Taylor's other recreational pursuits vary from the not-so-dangerous to the borderline insane. At age 62, he hiked up and skied down Russia's Mt. Elbrus—the highest mountain in Europe.
"Not a wise decision," he says, "But the three of us got away with it!"
He has spent time at Mt. Everest's advanced base camp—but only after promising his wife, Naomi Alazraki, MD, that he would not attempt to summit the famed 29,000-foot peak, which has claimed the lives of nearly 300 climbers. He did climb an adjacent mountain, the 23,000-foot Lhapki Ri. He once broke his neck skiing (no permanent damage) and has had thrilling excursions in the Alps, Bolivia, Ecuador, Tanzania, Nepal, Pakistan, Bhutan, and Antarctica.
"Being in places like this, it's a chance to reflect and decide what's important in life, and just enjoy the incredible beauty."

-Andrew "Tip" Taylor, MD'68
One aspect of Taylor's life that the film doesn't touch on is that he is a pioneer in nuclear medicine, having been involved in the basic research and clinical introduction of what is still the most widely used nuclear medicine renal tracer in the U.S.
His Duke mentor was Oliver W. Jones, MD, HS'57-'61. Taylor spent one of his medical school years doing research with Jones. When Jones was later recruited to the University of California-San Diego (UCSD), he convinced Taylor to go to UCSD for internship and residency.
But not before Taylor spent three months as the only physician in an isolated native village in Nicaragua, followed by a fellowship in tropical medicine at the Gorgas Institute in Panama City, Panama. He spent two years at the Centers for Disease Control and Prevention in Atlanta, Georgia; was director of nuclear medicine at the University of Utah; and with his wife, was co-director of nuclear medicine at Emory University. Taylor still has a research lab at Emory, where he works half time as professor of radiology and imaging sciences.
What's next for him is much of what has propelled him throughout his life—an intoxicating appetite for being in wild places—although scaled down a bit. This year, instead of a multi-week canoe trip, he and Slinger will take a week-long backpacking trip. In September he'll join a group trekking trip in China, and in December he plans to join a group in New Zealand.
"I have so many things I want to do, it would take a whole lifetime to do them," Taylor says in the film. "And then that probably wouldn't be long enough."