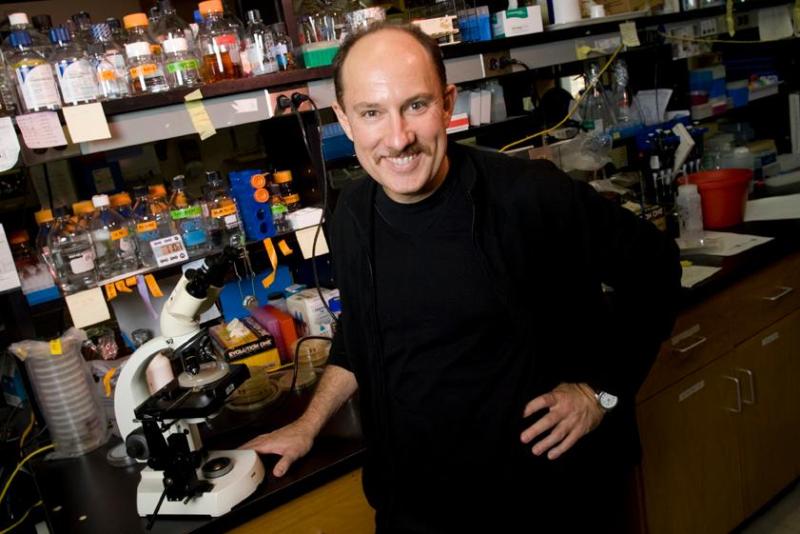 Joseph Heitman, MD, PhD, chair of the Department of Molecular Genetics and Microbiology in the Duke University School of Medicine, is the 2018 recipient of the prestigious Stanley J. Korsmeyer Award given by the American Society for Clinical Investigation (ASCI). The ASCI is an honor society of physician-scientists who translate findings in the laboratory to the advancement of clinical practice. 
The award recognizes Heitman's key contributions to understanding how microbial pathogens evolve, cause disease and develop drug resistance, and for his seminal discovery of the signaling and binding proteins TOR and FKBP12 that are targeted by the immunosuppressive drug rapamycin. He discovered that pathogenic microbes undergo unisexual reproduction, and has studied its impact on the evolution of microbial pathogens and how sexual reproduction may have originally evolved. Recent studies have unveiled novel mechanisms of antimicrobial drug resistance involving epimutations that silence drug-target genes via RNAi. The Korsmeyer Award also recognizes Heitman's significant contributions to mentoring undergraduate and graduate students, post-doctoral and clinical fellows, and faculty.
"It is humbling to receive this honor named in recognition of Stanley Korsmeyer, who was an exemplary physician-scientist, mentor, and role model," said Heitman.  "I am grateful to the ASCI for bestowing this honor, which recognizes and celebrates our shared mission of advancing science and medicine and mentoring the next generations of scientists and physician-scientists."
"This is an outstanding honor for Dr. Heitman and well-deserved," said Mary E. Klotman, MD, Dean, Duke University School of Medicine. "Joe's scientific contributions have made a significant impact on our understanding of microbial pathogens and consequently advanced discovery in this area and ultimately our ability to care for patients."
Heitman joined the faculty at Duke University School of Medicine in 1992, was named a James B. Duke Professor in 2004, and appointed Chair of the Department of Molecular Genetics and Microbiology in 2009. He was an investigator of the Howard Hughes Medical Institute from 1992 to 2005 and a Burroughs-Wellcome Scholar in Molecular Pathogenic Mycology from 1998 to 2005.
He is an elected fellow of the Infectious Diseases Society of America, ASCI, American Academy of Microbiology, American Association for the Advancement of Science, and  Association of American Physicians.  In recognition of his work, Heitman has received the Gustavo Cudkowicz Memorial Prize in Immunobiology; the American Society for Biochemistry and Molecular Biology's AMGEN Award; the Infectious Diseases Society of America's Squibb Award; and a National Institutes of Health / National Institute of Allergy and Infectious Diseases MERIT award for studies on unisexual reproduction of eukaryotic microbial pathogens.
Heitman received BS and MS degrees from the University of Chicago in 1984, his PhD from Rockefeller University in 1989, and his MD from Cornell University in 1992. From 1989 to 1991, he was a European Molecular Biology Organization postdoctoral fellow at the University of Basel's Biozentrum, in the laboratory of Michael N. Hall.