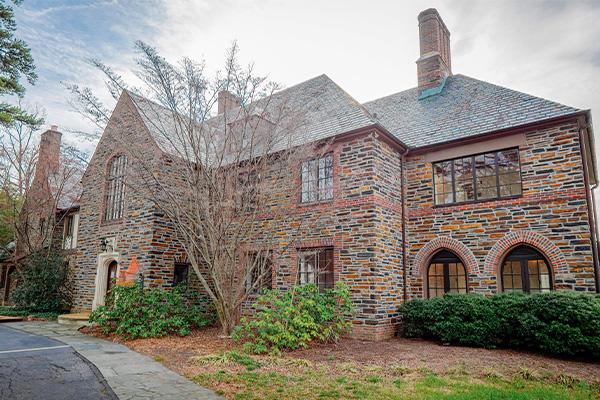 The Office of Biomedical Graduate Education recently announced the nine recipients of the 2023 Chancellor's International Awards, which provide financial support and professional development to promising international students.  
These talented researchers, who are entering their second year of PhD studies and collaborating with faculty at the Duke University School of Medicine, represent the future of biomedical research and discovery. 
The award winners are: 
Xinyi (Tina) Cheng, a doctoral student in the Department of Population Health Sciences working with Amy Corneli, PhD, MPH.  
 
Fayrouz ElWesmi, a Department of Cell and Molecular Biology doctoral student who is partnering with Saskia Hemmers, PhD, to study how immune cells respond to damage to the nervous system. By understanding these cell processes they hope to develop new treatments for diseases such as multiple sclerosis. 
 
Chia-Fang (Phoebe) Lee, a neurobiology scholar working in the lab of Debby Silver, PhD, in the Department of Molecular Genetics and Microbiology. Lee is exploring how radial glial cells contribute to brain development, aiming to understand the underlying causes of neurodevelopmental disorders such as autism. 
 
Sai Kwan Khal, a doctoral student in the Department of Biochemistry who works in the lab of Michael Boyce, PhD.
 
Shuoyi Li who works with Richard Mooney, PhD, specializing in neurobiology. 
 
Yiwei (Joey) Mao, a scholar in cell and molecular biology, who is working with Scott Soderling, PhD, chair of the Department of Cell Biology, to understand how neurons and specific cells called oligodendrocyte precursor cells work together during the formation and adaptation of myelin, a protective layer around nerve fibers. Uncovering how these cells interact can provide insights on nerve diseases and how to treat them. 
 
Patrick Prochazka, who specializes in molecular cancer biology is working with Chris Counter, PhD, in the Department of Pharmacology and Cancer Biology. Prochazka is researching new ways to prevent and detect skin cancer by using ultrasensitive sequencing techniques to identify early skin cancer mutations.  
 
Peijin Wang, a Department of Biostatics and Bioinformatics doctoral student who is working with Shein-Chung Chow, PhD, to make specialized drugs for rare diseases and oncology more accessible to patients. Wang is using the treasure trove of information collected from everyday healthcare experiences called real-world evidence to provide insights into drug safety and effectiveness. 
 
Haizhen (Vita) Zhang, a biochemistry scholar working in the lab of Amanda Hargrove, PhD, in the Department of Chemistry. 
The awards were established by the Office of the Chancellor to recognize the outstanding achievements of international students and to help ensure that they have the resources they need to succeed in their research careers. 
"International students bring a wealth of knowledge and experience to research universities," said Beth Sullivan, PhD, associate dean for research training and James B. Duke Distinguished Professor of Molecular Genetics and Microbiology. "Their diverse perspectives foster critical and creative thinking. This diversity of perspectives is essential for conducting cutting-edge research." 
The Chancellor's International Awards provide each recipient with a full year of tuition and fees, as well as a stipend to help cover living expenses. They also include opportunities for professional development, such as workshops, conferences, and mentorship programs.