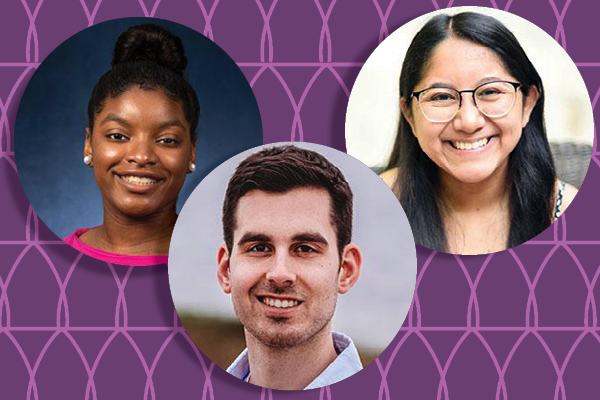 Here is a look at the research of some of the incoming and continuing PhD students from the School of Medicine who received competitive fellowships from The Duke Graduate School for the 2022-2023 academic year. 
Emma Bean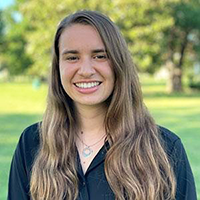 Cell and Molecular Biology
Chancellor's Domestic Fellowship
As a first-year student in the cell and molecular biology Ph.D. program, I have the opportunity to explore the labs of several faculty members through rotations to find the lab that best aligns with my research interests. I look forward to diving into research that seeks to understand the mechanisms of cell processes, how the studies can inform our understanding of cancer development and progression, and how this mechanistic knowledge can inform targeted treatment. These rotations will allow me to learn about different areas of research beyond what can be learned through coursework, and find the lab that best aligns with my research interests to complete my dissertation.
Kerry Dillon
Molecular Cancer Biology
Chancellor's Scholarship
I am currently a rotating student, but at this time I am interested in investigating development and maintenance of therapeutic resistance, using unbiased screening approaches to explore potential collateral sensitivities shared across different resistance mechanisms.
Olivia Fay
Pathology
James B. Duke Fellowship
I am a first-year PhD student in the Pathology Department at Duke and a recipient of the James B. Duke Fellowship.
My research interests include immunology (particularly autoimmunity and transplant immunology), histopathology, neuropathology, and the role of genetics in disease pathogenesis. I am especially interested in conducting translational studies that are clinically useful in the diagnosis, prevention, or treatment of human disease. 
I am currently rotating in the lab of Xunrong Luo, MD, Ph.D. the Luo Lab studies methods of inducing tolerance in solid organ and tissue transplantation. My rotation project involves investigating the mechanisms through which fragments of donor cells interact with recipient immune cells and ultimately contribute to graft failure, with the overall goal of identifying ways to induce tolerance and prevent allograft rejection. 
I look forward to continuing my research journey at Duke, and I am extremely grateful for the support provided to me by the James B. Duke Fellowship.
Mitzy Garner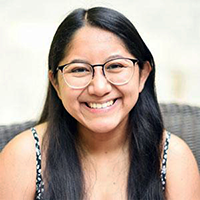 Pharmacology
Chancellor's International Fellowship
I am currently a first-year graduate student doing lab rotations. I aspire to do research that works towards the advancement of knowledge in the human health field through developing novel research for the treatment of various diseases. In my current rotation, I am working on synthesizing oligonucleotides and DNA aptamers conjugated with an anticoagulant drug to assess their inhibition of thrombin, as well as its reversibility using antidotes. The purpose of this work is to help create a reversible treatment for coagulation.
Joshua Ginzel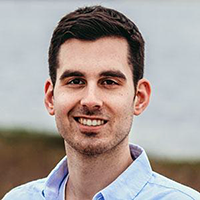 Cell Biology
Paul and Lauren Ghaffari Fellowship
The modern era of breast cancer treatment has demonstrated that there is a certain number of breast cancers that are both difficult to diagnose and even more difficult to treat. More and more cancers are diagnosed early, yet there has been no concomitant decrease in progressive, metastatic breast cancer. Furthermore, once breast cancer becomes metastatic, the likelihood of cutting-edge, targeted therapies being effective dramatically decreases. One potential explanation for this complex problem may be the presence of alternative versions of cancer-causing genes in human tumors. These oncogenic variants may provide an insidious mechanism in which tumors initiate or progress to metastasis without being detectable or treatable under the current standard of care. My thesis work has been to characterize a cancer rainbow mouse model which fluorescently labels oncogenic variants of one of the most common drivers of breast cancer, HER2. This unique model allows for precise tracing of cancer initiation and progression to reveal the hidden mechanisms by which these oncogenic variants lead to lethal cancers. Understanding how alternative forms of oncogenes impact cancer outcomes could be incredibly impactful in reducing treatment resistance and preventing metastatic disease.
Stephanie Hoyt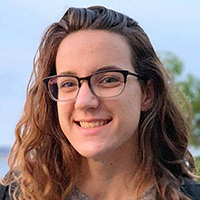 Computational Biology and Bioinformatics
Chancellor Scholarship
I am interested in studying genetic variation in the human genome using computational tools. I am particularly interested in how genetic changes outside of protein-coding sequences may influence the regulation of gene expression and how this might lead to disease or changes in development. I hope to develop new computational tools for the DNA analysis of sequencing data that will solve emerging questions around genetic variation and make these tools accessible to computational and non-computational researchers.
Alexandra Hoyt-Miggelbrink
Pathology 
Paul and Lauren Ghaffari graduate fellowship
My lab studies brain cancer, particularly glioblastoma (GBM). Patients that are diagnosed with GBM have a poor prognosis because current treatment strategies are not effective. Particularly treatments that harness the power of the immune system (and have shown incredible response rates in other tumors such as melanoma and lung cancer) are of interest to us. Unfortunately, these treatments have also failed for GBM patients. My project focuses on understanding the immune response to brain tumors in order to understand why these treatments don't work.
Bryan Jian Wei Lim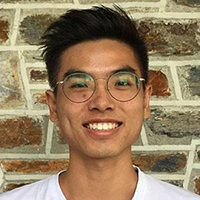 Immunology
Paul and Lauren Ghaffari Graduate Fellowship
In the past decade, immune checkpoint inhibitors such as pembrolizumab and Nivolumab have revolutionized management of malignant tumors in the clinic. However, less than 50% of patients benefit from immunotherapy. The spotlight is currently on the "stem-like" population of T cells that have been shown to sustain T cell response to tumors and can be expanded through anti-PD-1 treatment. My research focuses on what is termed the "terminally-exhausted" population of T cells found within the primary tumor that is seeded by the "stem-like" population. These so-called exhausted T cells have anti-metastatic potential that can be leveraged upon release from the primary tumor prior to surgical resection in neoadjuvant treatment modalities.
Ava MacKay-Smith
Genetics and Genomics
James B. Duke Fellowship
I am hoping  to incorporate an evolutionary framework for understanding population variation with cutting-edge functional genomics methods with the goal of understanding organismal adaptation, diversification, and speciation at the genetic and epigenetic levels.
Tatiana Prioleau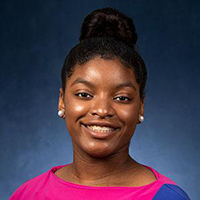 Molecular Cancer Biology
Dean's Graduate Fellowship
I joined the molecular cancer biology Ph.D. program at Duke because I want to study tumor resistance to current therapies. In most cases, patients are diagnosed with cancer when cancer has already reached advanced stages. My goal is to understand the molecular mechanisms of how advanced tumors evade current therapies and spread to distant sites  to develop better therapeutic strategies that will improve patient survival outcomes.
Amelia Schirmer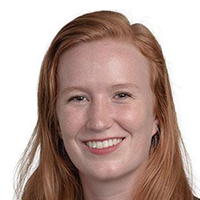 Pathology
Paul and Lauren Ghaffari Graduate Fellowship
The objective of my research is to determine the mechanisms of the protein, STK3, in prostate cancer and test if STK3 has a role in supporting resistance to a particular form of cell death called ferroptosis. Prostate cancer (PC) is the second leading cause of cancer-related deaths in men and one in nine men are diagnosed in their lifetime. Ferroptosis cell death has emerged as a target for cancer therapies and has been implicated in the progression of advanced prostate cancer. Characterization of STK3 and its role in ferroptosis may open up novel druggable targets for the treatment of advanced prostate cancer. Overall, I aim to determine STK3's targets and downstream pathways to uncover new molecular mechanisms in prostate cancer and expand the knowledge of the field.
See the entire list at Fellowship Snatpshots 2022