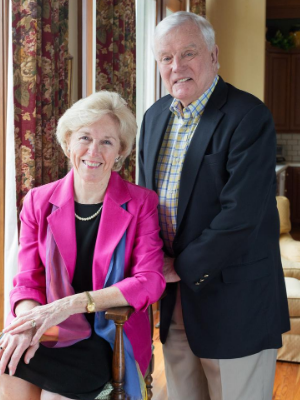 In 1972, when William H. Spencer III, AB'61, MD'65, HS'69-'72, P'89, P'89, P'89,'93, completed his fellowship in cardiology at Duke University Medical Center and headed to work in a private practice in Houston, Texas, his mentors cautioned him about the new career path he was about to start.
"Before I left Duke, they said to me, 'You can't make a living doing heart catheterizations,'" says Spencer, professor emeritus of cardiology at the Medical University of South Carolina. "It turned out to be the opposite."
Spencer made a long and successful career in cardiac catheterization. In 1996, while he was director of the Baylor Heart Clinic at Baylor College of Medicine, Spencer became the first physician in the United States to perform a non-surgical procedure, called alcohol septal ablation, to treat patients with hypertrophic obstructive cardiomyopathy—an inherited disease in which the heart muscle becomes abnormally thick. The thickness makes it harder for the heart to pump blood, and patients experience symptoms including fainting, chest pain, and shortness of breath, often to the point where they are unable to climb one flight of stairs.
"The procedure allows the doctor to inject alcohol through a catheter into the septum, the middle wall that separates the two chambers of the heart, which is thicker in these patients, and blocks the blood flow from the heart," says Spencer. "Pure alcohol is toxic to the heart and causes a heart attack that produces scar tissue, which shrinks the obstruction and allows blood to flow normally again from the heart to the body."
Spencer traveled all over the country and around the world to train other physicians, including Duke cardiologists, on the procedure, and alcohol septal ablation is now a standard therapy for people with hypertrophic obstructive cardiomyopathy. "The results that my team and I have reported over the years were far beyond anything I would have ever imagined," he says. "People did so much better after the procedure."
The Duke Medical Alumni Association honored Spencer with the 2001 Distinguished Alumnus Award for his contributions to patient care and cardiology research.
In 2015, Spencer and his wife, Ann Spencer, P'89, P'89, P'89,'93, made a bequest commitment to establish the Dr. and Mrs. William H. Spencer III Fellow in Cardiology Fund. When realized, the gift will support a postdoctoral fellowship in the Division of Cardiology at Duke University School of Medicine.
Family Tradition
Spencer came to Duke University in 1957 on the Angier B. Duke Scholarship, a merit-based financial award for undergraduate students. He grew up in Mooresville, North Carolina, and Duke was his number one school choice. "I was going to be a pre-med student, and I thought that Duke was the best school to go to. It made it even better with the scholarship that I won," says Spencer.
Spencer majored in English while doing his pre-med classes and enrolled in Duke University School of Medicine in 1961. He graduated in 1965 and went on to do an internship in internal medicine at Johns Hopkins Hospital. He then came back to Duke to complete a fellowship in cardiology. Later in his career, Spencer served on the Duke Heart Center Board of Advisors for several years.
Attending Duke became a family tradition. Three of the Spencers' five children graduated from Duke University: Arthur L. Spencer, AB'89; John M. Mitchiner, BS'89, MD; and Katherine Spencer Zelazny, AB'89, JD'93. John followed his father's footsteps into medicine and became a pediatrician.
In 2010, Spencer retired from the Medical University of South Carolina, and he and Ann moved to Kiawah Island, South Carolina, where until recently he volunteered at a free clinic on the island.