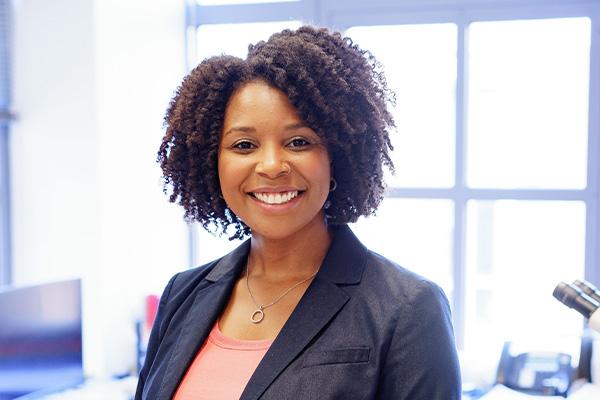 Chantell Evans, PhD, an assistant professor of cell biology in the School of Medicine, has been selected to receive a 2022 Sloan Research Fellowship from the Alfred P. Sloan Foundation. 
The two-year, $75,000 fellowships are awarded annually to early career researchers in recognition of distinguished performance and a unique potential to make substantial contributions in their field. 
Evans, an inaugural recipient of the Hanna Gray Fellowship from the Howard Hughes Medical Institute, joined Duke in September 2021 as a Duke Science and Technology Scholar. She studies how neurons monitor and maintain quality control over the 2-3 million mitochondria — tiny organelles that generate chemical energy — located within each nerve cell. When mitochondria become damaged they must be removed from the cell. Disruption of this pathway can lead to neurodegenerative diseases such as Parkinson's disease and Amyotrophic Lateral Sclerosis (ALS).  
"We hope that in characterizing these various mitochondrial quality control mechanisms, we can understand more about the processes that lead to neurodegeneration," said Evans. "I am honored to be named a Sloan Research Fellow. It's a great way to start my career and aid in establishing my laboratory at Duke." 
Evans is one of two Duke faculty receiving a Sloan Research Fellowship this year; the other is Daniel M. Scolnic, an assistant professor of physics in Trinity Arts & Sciences.  
They are among a total of 118 early-career researchers to receive the fellowships this year. More than 1,000 candidates were nominated by their fellow scientists, and the awardees were selected by panels of senior scientists in their fields. 
"Today's Sloan Research Fellows represent the scientific leaders of tomorrow," said Adam F. Falk, president of the Alfred P. Sloan Foundation. "As formidable young scholars, they are already shaping the research agenda within their respective fields — and their trailblazing won't end here." 
###