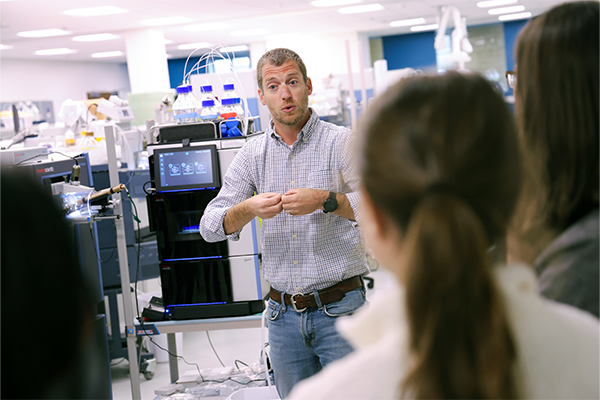 Duke University School of Medicine is welcoming new faculty by offering a unique opportunity to tour its state-of-the-art research core facilities. 
The tours are a pilot project designed to highlight Duke's extensive research capabilities with the goal of integrating faculty into the research community while providing a firsthand look at the resources available for their work.  
Some of the innovative technologies within the facilities include the Orbitrap Astral Mass Spectrometer for exploring single-cell variability and accelerating biomarker discovery; the PacBio Revio sequencer for accurate long-reads of the human genome and the Illumina NovaSeq X Plus for high-throughput sequencing. 
The tours encompassed visits to six core facilities over two days, including:
Light Microscopy Core Facility, under the guidance of Lisa Cameron, PhD.  
Bluesmith 3D Printing, managed by Isaac Rattey.  
Shared Materials Instrumentation Facility, led by Mark Walters, PhD.  
Sequencing and Genomic Technologies, directed by Devi Swain Lenz, PhD.  
Proteomics and Metabolomics, directed by Erik Soderblom, PhD.  
Molecular Genomics, led by Simon Gregory, PhD, director and Karen Abramson, MPH, assistant director. 
"These tours not only showcase our cutting-edge equipment and the expertise of our core directors and staff, but they also foster relationships with other new faculty and our office," said Jennifer Foreman, assistant dean for basic sciences at the School of Medicine.
"Additionally, it's an opportunity to spotlight the downtown laboratories and facilities as integral parts of the Duke experience," she said.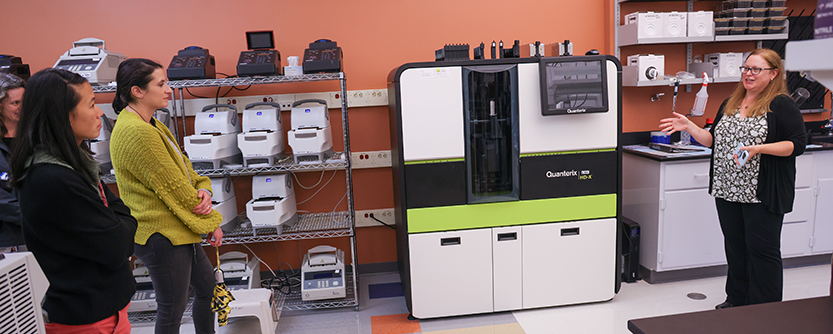 Faculty members visited key locations such as the Chesterfield Building, a former cigarette factory housing the Sequencing and Genomics Technologies and Proteomics and Metabolomics labs, and the Carmichael Building, home to the Molecular Genomics Core and the Duke Molecular Physiology Institute. 
They handled 3D printed models of human hearts at the Bluesmith 3D printing lab, discussed use cases for confocal and light sheet microscopy, and were introduced to the diversity of technologies managed by the Shared Materials Instrumentation Facility, including two cryo-transmission electron microscopes. 
During tours, Soderblom, an associate research professor of cell biology and the director of the Proteomics and Metabolomics lab, emphasized the remarkable versatility of their analytical platform, and wide range of applications.  
The lab supports about 150 different investigators each year, including basic science and clinical researchers, from various groups across the University such as the School of Medicine, Duke Health, the Duke Human Vaccine Institute, Duke Cancer Institute and Duke Molecular Physiology Institute. 
"That is probably the best part of the facility – there's always an opportunity to work on something new and exciting," he said.  
To learn more about the core facilities visit Core Facilities & Service Centers