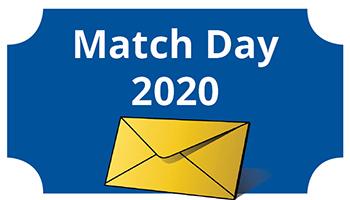 On Friday, March 20, medical students at Duke celebrated Match Day virtually! The students received envelopes digitally at noon and quickly shared their exciting news on social media and other digital platforms. 
A total of 115 Duke Med students participated and are headed to some of the nation's most prestigious residency programs.
 
Among them:
28 are staying at Duke
8 are going to Harvard
6 are going to Washington University
4 are going to Stanford University
4 are going to University of Washington
4 are going to Hospital of the University of Pennsylvania
4 are going to University of North Carolina
3 are going to University of California, San Francisco
3 are going to Columbia University
Most frequent residency locations by state:
33 North Carolina
11 Massachusetts​
11 California
7 Missouri
6 Pennsylvania
Students matched in the following specialties:
10 Anesthesiology
4 Dermatology                     
6 Emergency Medicine     
4 Family Medicine              
7 General Surgery              
32 Internal Medicine           
4 Med/Peds                         ​
2 Neurology                          
1 Neurosurgery                   
8 Obstetrics/Gynecology​
1 Ophthalmology                
4 Orthopaedics                    ​
1 Otolaryngology                
1 Pathology                           
10 Pediatrics                           
4 Plastic Surgery                  
4 Psychiatry                          
2 Psychiatry Triple Board           ​
1 Radiology (Diagnostic)    
4 Radiology-Interventional                
1 Radiation Oncology         ​
Learn more about the future aspirations of five students in the Class of 2020.