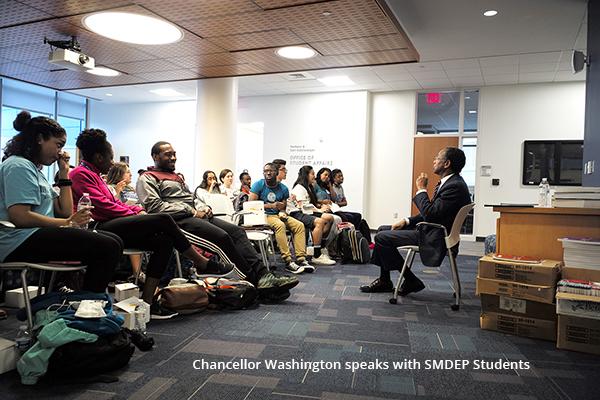 This summer, 78 undergraduate college students from across the nation participated in the Summer Medical and Dental Education Program (SMDEP) at Duke University School of Medicine.  This six-week program was implemented to diversify the nation's healthcare workforce by supporting young people who are underrepresented in medicine, minorities who are disadvantaged, or who wish to work in underserved communities and who have a passion for medicine.
SMDEP is a national program established through the Robert Wood Johnson Foundation to give students the opportunity to expand their knowledge in the basic sciences and offer them a glimpse of the medical school experience. Duke is among the twelve program sites nationwide and has offered the program for 16 years.
Students in the program take courses in science and statistics, attend seminars on health policy and health disparities, participate in career development discussions led by Duke faculty members, and participate in a standardized patient module to learn firsthand how to diagnose and treat patients. In addition, program scholars participate in clinical observerships and learn skills to improve study habits and financial planning. 
"This program addresses the need for diversity in our health care system," says Duke's Multicultural Resource Center co-director Maureen Cullins. "Studies show that diversity among our health care professionals helps improve the quality of patient care."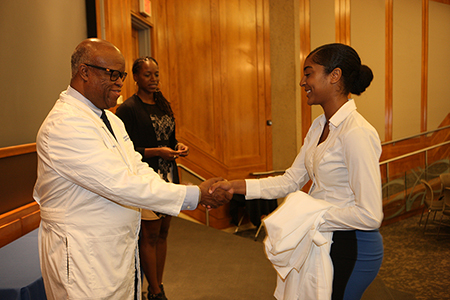 ​SMDEP has been exceptionally successful at Duke. According to Cullins, SMDEP students are two times more likely to pursue a career in medicine than underrepresented students that don't participate in the program. Of the 1200 students who have participated in this program at Duke over the last 16 years, 634 have applied to medical school. Eighty-seven percent of those have matriculated into medical school. Thirty-five of those students have attended or are currently enrolled in medical school at Duke, and two are physicians who now work in the Duke healthcare system.