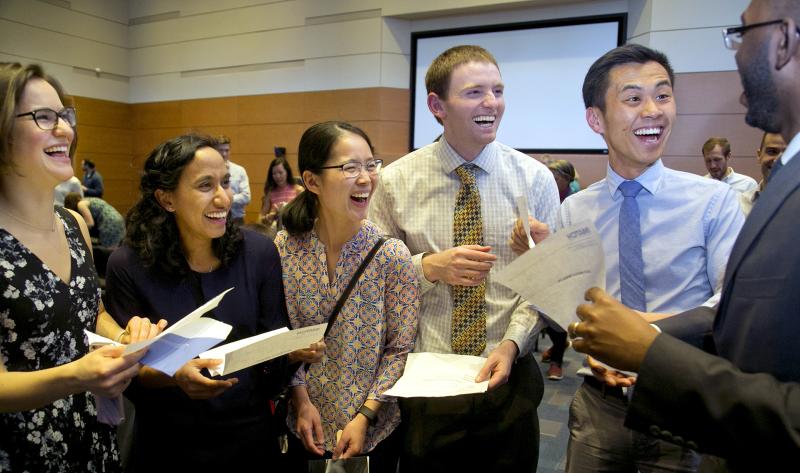 Each year, fourth-year medical students across the country view the third week of March as the beginning of their careers in medicine. Match Day, created in 1952, is a event organized by the National Resident Match Program during which students in the United States are "matched" with residency and fellowship training programs throughout the country.
[video:https://youtu.be/s8Mht6-GBIs]
On March 16, medical students at Duke opened their envelopes and learned where they will begin their residency programs. A total of 102 students participated in Match Day at Duke this year and are headed to some of the nation's most prestigious programs.
Among them:
30 are staying at Duke for residency
7 are going to Harvard 
3 are going to UC San Francisco  and 13 more to other UC schools
6 are going to Stanford 
3 are going to University of Washington (Seattle)
2 are going to Johns Hopkins
2 are going to Yale
Most frequent locations by state:
32 North Carolina 
22 California 
8  Massachusetts
5  Texas  
4  New York
 
Students matched in the following specialties:
5 Anesthesiology 
5 Dermatology 
3 Emergency Medicine 
4 Family Medicine 
25 Internal Medicine 
7 Medicine-Pediatrics 
1 Medicine Psychiatry
2 Neurology 
2 Neurosurgery 
4 Obstetrics & Gynecology
0 Ophthalmology 
6 Orthopaedics 
1 Otolaryngology 
1 Pathology 
7 Pediatrics 
1 Physical Medicine/Rehabilitation 
1 Plastic Surgery 
4 Psychiatry 
3 Radiation Oncology 
6 Radiology 
2 Radiology, Interventional  
9 Surgery-General 
2 Urology 
1 Vascular Surgery