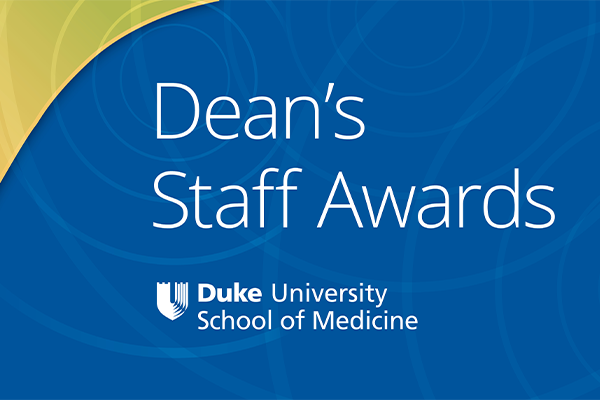 Four staff members from across the School of Medicine have been named recipients of the inaugural Dean's Staff Awards.
Dean's Staff Awards in four categories are presented annually to recognize exemplary staff supporting the School of Medicine's mission and values. 
This year's recipients were selected from among almost 150 individuals nominated by their colleagues in programs, offices, and units throughout the school.
The recipients of the 2023 Dean's Staff Awards are:
Dean's Excellence Staff Award
Allison Taylor, PA-C, Physician Assistant, Department of Psychiatry and Behavioral Sciences
This award recognizes a staff member within the School of Medicine who consistently demonstrates excellence in one or more of the following areas: education, research, patient care, or community partnership. This staff member lives the School of Medicine values and consistently demonstrates excellence by going above and beyond in the performance of their work duties, dedication to the institution, collaboration with others, and contributions to the community.
Professionalism and Integrity Staff Award
Jessica Schonberg, MEd, Director of Educational Programs, Office for Faculty
This award recognizes a staff member who demonstrates professionalism and integrity in all aspects of performance and effort. This staff member exemplifies the highest standards of professionalism, and consistently exhibits honesty, integrity, and ethical responsibility.
Champion of Inclusion Staff Award
Debra Ragland, PhD, Program Director of BioCoRE, the Inclusion, Diversity, Equity, Advancement, and Leadership in the Sciences (IDEALS) Office
This award recognizes a staff member who demonstrates exemplary leadership towards inclusive excellence and exhibits a high level of respect for and service to others. This staff member carries the ideals of equity, diversity, and inclusion into practice.
Valued Service Staff Award
Kaitlin Hicks, MEd, Clinical Education Senior Program Coordinator, Doctor of Physical Therapy Program
This award recognizes a staff member who has positively enhanced the lives of others within the School of Medicine, working behind the scenes with an enthusiastic attitude in whatever capacity is necessary. This staff member demonstrates outstanding reliability in the execution of vital duties, without which the School of Medicine could not function.
"Congratulations to this year's recipients and all their fellow nominees," said Dean Mary E. Klotman, MD. "They represent the excellence, leadership, and dedication we see every day all across the School of Medicine. I want to thank everyone who nominated a deserving colleague, as well as the selection committee members who had the difficult task of evaluating such an outstanding group of nominees."