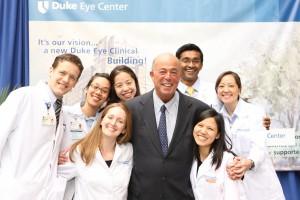 David L. Epstein, MD, the Joseph A.C. Wadsworth Clinical Professor of Ophthalmology and chair of the Department of Ophthalmology, passed away on March 4, 2014.Eye Center Ground Breaking04.20.2012
Dr. Epstein served as chair for the last 22 years, building and leading an outstanding community of ophthalmologists and vision scientists. Under his leadership, the department grew to include its current team of 73 faculty members and more than 300 staff members.
A distinguished clinician-scientist, Dr. Epstein authored more than 230 scholarly papers and consulted in glaucoma clinical care while maintaining an active glaucoma research program.  Dr. Epstein had a special interest in fostering physician-scientists' careers in ophthalmology.
He received many awards for his work including the 2013  Mildred Weisenfeld Award for Excellence in Ophthalmology from the Association for Research in Vision and Ophthalmology (ARVO). This award is presented annually to an individual in recognition of distinguished scholarly contributions to the clinical practice of ophthalmology. In 2012, he received Duke University School of Medicine Medical Alumni Association's Distinguished Faculty Award.
Dr. Epstein also served on numerous national scientific advisory boards. From 1992-1993, he served as president of ARVO.  He served as president of the Chandler-Grant Glaucoma Society from 2004-2005 and was president of the Association of University Professors of Ophthalmology in 2011.
Edward Buckley, MD, will serve as acting chair of the Department of Ophthalmology, effective immediately. Dr. Buckley is a highly respected administrator and renowned pediatric ophthalmologist. He is the Banks Anderson, Sr. Distinguished Professor of Ophthalmology and Pediatrics and has served as Vice Dean for Education for the School of Medicine since 2008. He is also director of the pediatric ophthalmology fellowship program. Dr. Buckley will continue to serve in these roles while serving as acting chair of the department.
http://www.youtube.com/watch?v=x3JDdnu2V-U