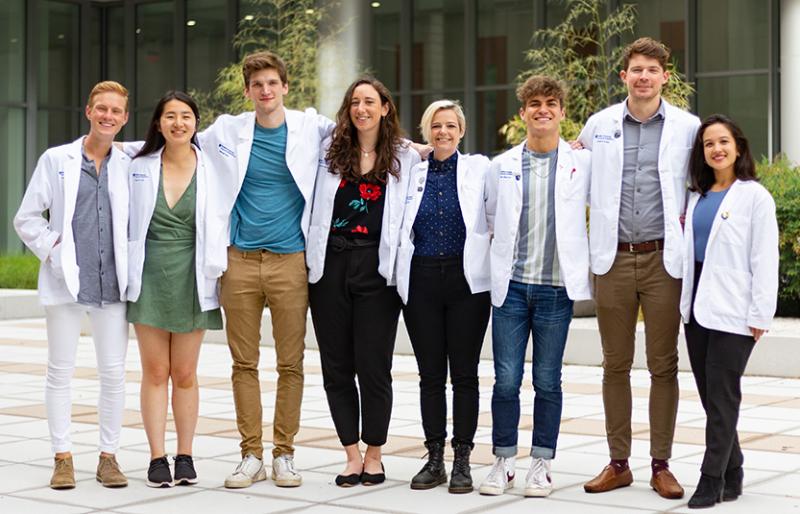 During her time as an undergraduate at Duke, Alex Stonehill made a point to join several LGBTQ student organizations. Focused on fulling her own social needs, she said she was mostly driven by a desire to socialize and form bonds with others with similar identities. But over time she came to understand that such organizations offer much more. 
"The more time I spent in those organizations, the more I realized that this is a community that has so much within it, that's more than just a social outlet for people," Stonehill said. "It's also a community that helps uplift and support those who are struggling and provides a lot of support for the people around them." 
Once she became a medical student, Stonehill found a similar opportunity to support and uplift others through DukeMed Pride. The student-run organization aims to create a space for LGBTQ students in the Duke University School of Medicine to find mentorship, networking, and a sense of community.  
Dane Whicker, PhD, who serves as DukeMed Pride's faculty advisor, said student affinity groups like DukeMed Pride play an important role in enhancing the student experience and in creating a more inclusive learning environment. "These organizations help our students thrive, find community, and advocate for the needs they see as important for serving the LGBTQ+ population," said Whicker, who is also director of gender and sexual diversity initiatives in the Office of Equity, Diversity, and Inclusion at the School of Medicine.  
"Gender identity and sexual orientation are often less visible but still stigmatized aspects of people's identities, so it is crucial that we explicitly signal a message that we value LGBTQ+ students for who they are, and that they belong here at Duke," Whicker said. "DukeMed Pride helps increase the visibility of our LGBTQ+ students, and how their unique experiences and perspectives continue to advance the field of medicine." 
Stonehill, a second-year medical student, said even though there is now more acceptance of the LGBTQ community, groups like DukeMed Pride remain needed. "It's a unique experience to be a queer student in a world that is still working on what acceptance means," Stonehill said. "So, having peers around you, having mentors to look up to, having out loud support, and not just acceptance, but embracing of each other is still extremely important." 
DukeMed Pride also seeks to increase awareness and create opportunities for all students, faculty, and staff to discuss LGBTQ issues by offering educational events and resources.  
Stonehill, who is the current president of DukeMed Pride, said the educational events help supplement what students are already learning in the curriculum. DukeMed Pride recently hosted a lunch and learn workshop focused on LGBTQ health that was open to the entire school.  
"It provided insight into what the clinical experience might be like for a med student or as someone working in a hospital when interacting with LGBTQ health, and how to practically approach providing quality care for LGBTQ patients," Stonehill said. 
Other workshop topics have included anti-racism within the LGBTQ community. 
Some events are focused solely on fun and building community, such as the virtual embroidery session the group hosted recently. "We dropped off little embroidery packets at people's houses who signed up and then sat on Zoom together and embroidered Pride gear," Stonehill explained. 
Community outreach is also a major focus for DukeMed Pride, which currently has about 30 members. The group partnered with the Duke chapter of the Latino Medical Student Association (LMSA) for a virtual 5K run that raised money for the Sylvia Rivera Law Project, a national organization that provides legal services to clients who are facing gender and sexual discrimination. DukeMed Pride also held a fundraiser with two other LGBTQ student groups, Duke Law School's OUTLAW and Fuqua School of Business's FuquaPride, which benefited the nonprofit organization Safe Schools NC.  
"Every year we to try to get better at taking some of the privileges and opportunities that we have as Duke med students and extending that beyond our scope," Stonehill said. "Duke has a very storied history within Durham and within North Carolina as a whole. It's not always seen as a place that extends its benefits to others. As DukeMed Pride, we're aware that we exist within a larger community in Durham and within a larger queer community in Durham as well. Anything that we can do to use our position to support those around us, is our goal."  
Stonehill said she and other members of DukeMed Pride have witnessed positive change over the past few years. That gives them hope, but they still want to keep pushing the school to continue to make change. 
"We can see progress where LGBTQ health has entered our curriculum in a more meaningful and official way," Stonehill said. "I definitely applaud Duke's efforts, but I think that DukeMed Pride can help urge that along even more." 
---
Top image: from left to right, DukeMed Pride members Trevor Sytsma, Vivian Chen, Mike Ivey, Alex Stonehill, Braylee Grisel, Alex Sizemore, Daniel Evans, and Miranda Morris. Photo by Pitch Story Lab