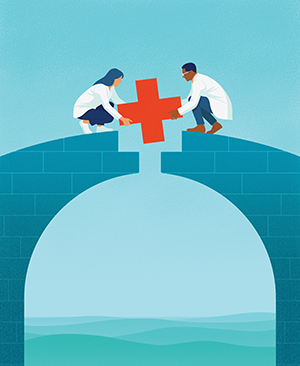 From the day she took office as dean of Duke University School of Medicine in 2017, Mary E. Klotman, BS'76, MD'80, HS'80-'85, has advanced the idea of One Duke: the premise that the key to achieving great things lies in collaborations across Duke, regardless of title, unit, discipline, or any of the other labels that traditionally have compartmentalized the operations of a major academic medical institution.
It's more than a slogan. Klotman and other university and health system leaders have been working hard to bridge boundaries and foster a culture of creative collaboration.
Within the universe of Duke Health, that means building connections within and between the different entities that comprise it: a world-class medical school, a top nursing school, a leading clinical care provider, and the physician practice. The four units have collaborated but have traditionally operated largely separately.
Klotman is determined that, now more than ever, it's critical that all areas of Duke work as one. It's a philosophy shared by other Duke Health leaders including Chancellor Eugene Washington, Executive Vice President of the Duke University Health System William Fulkerson, School of Nursing Dean Marion Broome, Private Diagnostic Clinic (PDC) Board Chair Erik Paulson,and interim PDC President John Sampson.
"The old model is a dinosaur," says Klotman. "But if you flip that model and focus on building great partnerships, you can leverage strengths that make the whole institution stronger."
"If you flip that model and focus on building great partnerships, you can leverage strengths that make the whole institution stronger."

- Dean Mary E. Klotman, MD
"By virtually every measure, she says—patient outcomes, research advances, efficiency, cost savings, and so on—partnering up offers big advantages.
"Our academic and clinical missions are linked, and to pretend they aren't linked makes no sense," Klotman says. "We have a jewel of a medical school and nursing school that the clinical enterprise can tap into, and a jewel of a clinical operation that the schools can tap into. If we don't take advantage of that, we miss a tremendous opportunity."
FORECASTING HEALTH
With weather satellites arrayed around the globe, we can forecast broad weather patterns days ahead, and we can also tell with astonishing precision whether a sudden thunderstorm or tornado will hit a particular neighborhood in a matter of hours or even minutes, giving residents time to seek shelter.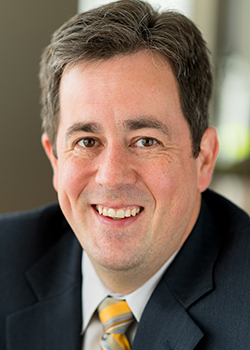 Adrian Hernandez, MD, vice dean for clinical research at Duke University School of Medicine, wants clinicians—and ultimately patients themselves—to be able to forecast individual health challenges with the same sort of accuracy and timeliness. That's the goal of the Learning Health Unit (LHU) system, a new cross-disciplinary initiative at Duke that Hernandez leads.
"Traditionally, health care has been reactive: somebody gets sick, they come in for care, and we help," says Hernandez. "We are evolving into a more proactive model, where we can forecast patients' health risks and provide them with actionable information to guide them to better health. Then we can act before the storm arrives, to minimize its severity or prevent it altogether."
The LHU system at Duke puts together teams of clinicians, clinical researchers, and data scientists within service areas—cardiovascular, for example—to use vast amounts of aggregated health data generated every day to make what is normally invisible to clinicians more visible, leading to new ways to forecast, forestall, and treat health problems.
One of many examples already underway or planned: A Heart Center team, in partnership with the Duke Institute for Healthcare Innovation, is analyzing electronic health record data to develop a new model to better predict cardiogenic shock, a serious and often fatal condition that is currently very difficult to anticipate. The LHU approach should lead to faster interventions and better outcomes.
The idea of embedding clinical research into clinical care has been around for a long time, says Hernandez. The advent of technology that gives clinicians and researchers access to vast amounts of health data has made it possible in real time now.
LHUs have so much potential to transform health care, Hernandez says, that the Institute of Medicine at one point predicted that 80 to 90 percent of health decisions would be based on Learning Health systems by 2020. "As a field, we're a long way from that," Hernandez says. "But—at least here at Duke—we are moving in that direction."
INSTITUTING INNOVATION
At the Duke Institute for Healthcare Innovation (DIHI), a collaborative initiative between the School of Medicine and the Duke University Health System, the goal is to foster innovative new approaches in four broad areas: improving patient outcomes, increasing access to health care, reducing costs, and enhancing the well-being and experience of faculty and clinical staff. In doing so, DIHI works closely with other schools and programs, including the School of Nursing, Pratt School of Engineering, Clinical and Translational Science Institute, and Duke Forge.
Every year, Duke Health leadership identifies several thematic areas of strategic importance and issues a request for proposals, inviting faculty, clinicians, staff, students, and trainees across Duke to submit ideas for identifying and solving problems within those areas. DIHI selects up to a dozen from the scores of submissions and provides funding, innovation resources, and customized project advancement and implementation support to develop and test the selected ideas.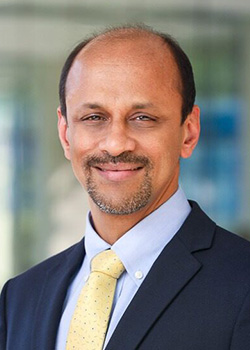 In one recent example, hospital medicine specialist Cara O'Brien, MD, teamed up with machine learning experts, statisticians, data scientists, and implementation specialists to develop and deploy the first deep-learning model at Duke that predicts patients' risks of sepsis, a life-threatening response to infection. The Sepsis Watch system has been so successful that it's been implemented at all of the Duke hospitals, with plans to scale it into hospitals across the nation."The leadership sets the strategic theme, and our frontline clinicians and others identify specific problems and novel solutions," says DIHI Director Suresh Balu, associate dean for innovation and partnership. "We have complete buy-in from both the clinical enterprise and the schools."
DIHI also holds an annual high-energy event called Innovation Jam. It's a shark tank-style competition where anyone with an idea for a new invention or approach can pitch their proposal, and a panel of judges selects several ideas with market potential to jump-start with seed funding. Each Innovation Jam thus far has wound up generating at least one new company, Balu says.
Since its inception, DIHI has also been a training ground for students and trainees from the schools of medicine and nursing as well as other schools across campus. It provides an immersive experience in innovation and data science, including mobile health platforms and digital health app development.
"There is so much creativity and innovation throughout the whole Duke enterprise," Balu says. "We encourage that and help the best ideas get a foothold."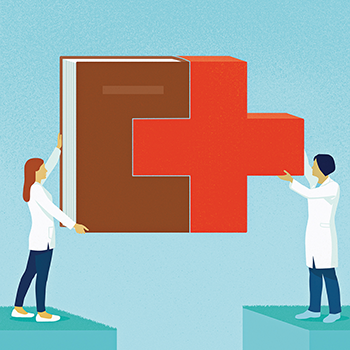 'A COMPLETE WIN-WIN'
The Duke Clinical Leadership Program (DCLP) spans all areas of the Duke Health spectrum; its specialized training is available to applicants from the School of Medicine, School of Nursing, and all the Duke hospitals and regional clinics.
The DCLP was established in 2010 by then-Chancellor Victor Dzau, MD, and is operated by the School of Medicine's Office of Faculty with the support of the chancellor's office. Its six-month curriculum provides training to clinical faculty interested in developing skills that will position them for leadership roles. Program fellows explore topics including strategy and health policy, funds flow and operations at Duke, negotiation, and managing personnel.
In addition to classwork, fellows participate in group projects designed to build teamwork and put their skills into practice. The projects are designed to generate actionable improvements in areas such as clinical rotations and electronic health record management.
"Often, when leaders need something important done, they call on the same few people," says Cary Ward, MD, associate professor of medicine and faculty director of the program. "The point of this program is to develop new leaders. We're creating a pool of trained people that administrators can draw on when they need to fill important roles."
A decade ago, says Klotman, this sort of dedicated pipeline from the clinic to administration was unheard-of.
"Now we have physicians and residents who come here because they know this pathway is available," she says. "Faculty learn how to be leaders in an academic medical center. It's a complete win-win."
The team projects have one important ancillary benefit: they spark partnerships—sometimes lasting ones—among people whose paths might otherwise never have crossed.
"People from very diverse areas work together," Ward says. "When the course is over, people often tell us they want the opportunity to keep working with some of their teammates. It's all about developing relationships that cross hospitals, departments, and divisions."
WAVE OF THE FUTURE
Building One Duke out of the disparate parts of an institution as large and multifaceted as this one isn't easy.
"You do it one program at a time," Klotman says. "Some are harder than others. Sometimes you have to break down some barriers and put together teams of people who don't traditionally work together. But if you get smart people together and try new things, good things happen.
And then you build on your successes."And the successes are happening, says DIHI's Balu.
"Health care is now a transdisciplinary space. The institutions that capitalize on that are going to lead the way."

-Suresh Balu
"This is a new way of doing things," he says. "Health care is now a transdisciplinary space. The institutions that capitalize on that are going to lead the way. At many institutions, the medical school doesn't talk to the rest of the campus, and the rest of the campus doesn't talk to the health care delivery units. Here, we are enabling a new model that taps into every part of the institution to come up with the best solutions. This is the wave of the future, and Duke is out in front.
"Even as they work to break down barriers to partnerships within Duke Health, Klotman and her team are actively engaging the broader Duke universe."Imagine the potential of world-class engineers, data scientists, policy experts, and others across campus working side by side with Duke School of Medicine faculty," Klotman says. "That's the world we're building."