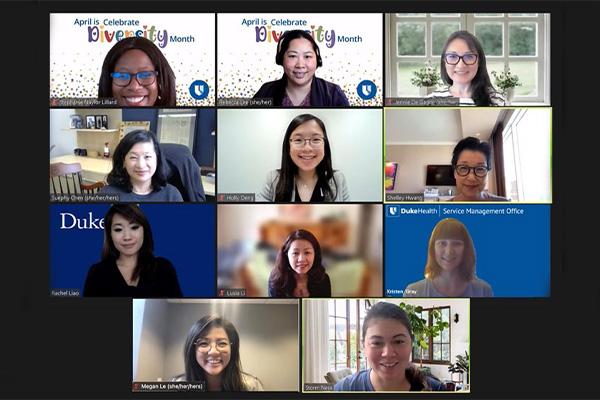 ​April is Celebrate Diversity Month. To show your support, download this Zoom background.

A new affinity group is bringing together Duke Health team members who identify as Asian American and Pacific Islander and their allies.

The Asian American and Pacific Islander (AAPI) affinity group launched in April 2021 on the heels of the spa shootings in Atlanta.

"A special meeting of Conversations with Colleagues was held to help team members process the events in Atlanta and many of us realized we felt like islands," said Rebecca Lee, SharePoint developer II with Duke Health Technology Solutions (DHTS) and co-founder of the AAPI affinity group. "We didn't have that sense of community with other Asian colleagues."

The group began meeting virtually on the first Thursday of each month. Lee describes the meetings as a safe space where people come and voice concerns, explore their heritage and educate allies. In addition to the monthly meetings, the AAPI affinity group is working on several projects, including analyzing patient satisfaction data to identify opportunities to reduce health disparities. The affinity group also helped promote Lunar New Year in February with a story in Inside Duke Health about the holiday and its traditional red envelopes. And since May is Asian American and Pacific Islander Heritage Month, the affinity group will host a celebratory, family-friendly event on May 14 at DHTS at the Park.

Lee is co-founder of the AAPI affinity group along with Suephy Chen, MD, MS, the chair of Duke's Department of Dermatology. Chen said being involved with the affinity group was important to her, especially while Asian Americans and Pacific Islanders represent only 20 percent of medical professionals, and only 2 percent of medical leadership in the United States identify as AAPI.

"I feel a sense of responsibility to my own children and to medical trainees," said Chen. "It is rewarding work."

Register for the May 14 event here. To learn more about the AAPI affinity group, contact AAPI@duke.edu.
This article first published in Inside Duke Health