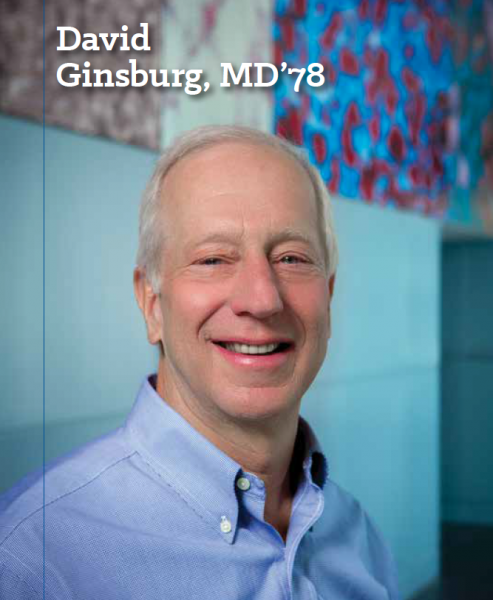 A physician scientist in the field of genetics and hematology, David Ginsburg has contributed substantially to advancing the understanding, diagnosis, and care of inherited and acquired coagulation disorders. His contributions have improved the understanding of the molecular basis of inherited bleeding and thrombotic disorders, genetic modifiers of bleeding and thrombotic risk, and the structure and function of blood coagulation factors and the regulation of hemostatic balance.
Ginsburg's accomplishments have included the original cloning of von Willebrand Factor as well as a body of work defining its structure, function, and important inherited mutations. In addition, he cloned human plasminogen activator-inhibitor and elucidated its molecular control. He also defined the genetic basis of thrombotic thrombocytopenic purpura, leading to the development of a standard clinical test. Lastly, his work has defined the genetic basis of factor V and factor VIII deficiencies.
He has been elected to leading professional organizations including the National Academy of Sciences, National Academy of Medicine, Association of American Physicians, and American Academy of Arts and Sciences. Ginsburg is a member and former president of the American Society for Clinical Investigation.
His numerous honors include a Distinguished Scientist Award from the American Heart Association, Association of American Medical Colleges Distinguished Research in the Biomedical Sciences Award, Henry M. Stratton Medal for Basic Research from the American Society of Hematology, and Distinguished Faculty Achievement Award from the University of Michigan Medical School.
Ginsburg has devoted his career to mentoring future scientists at every level and is a champion of the physician-scientist pathway, a road that he began at Duke.
Education: Yale University; Duke University School of Medicine
Training: Presbyterian Hospital; Peter Bent Brigham Hospital; Harvard/Dana-Farber Cancer Institute, Harvard's Children Hospital
Current Titles: James V. Neel Distinguished University Professor of Internal Medicine and Human Genetics, Warner-Lambert/Parke-Davis Professor of Medicine, University of Michigan; Howard Hughes Medical Institute Investigator