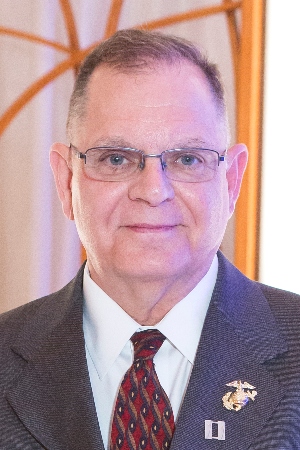 My path to becoming a PA was like many others' in the early years of the profession. After graduating from UNC-Charlotte, I became a Marine Corps officer and was assigned to the 3rd Battalion, 8th Marine Regiment as the battalion logistics officer and a platoon commander with H&S Company. We had Navy Corpsmen and a Navy physician attached to us for medical care. We loved our "docs" and had a saying: "Don't ever look down on a Navy Corpsman, because one day you may find yourself looking up at him." That became much clearer during our tour overseas on Operation Strong Express in 1972. We sustained a number of injuries in the field and had a devastating helicopter accident where five of our Marines were killed. It was the corpsmen who were the primary caregivers. 
Since I had been a pre-med student in college and had four years of ER experience as a surgical technician working my way through college, I decided to apply to the Duke PA program when leaving Marine Corps active duty. At that time, many PA students had military experience, mostly as corpsmen or medics. Military medical experience was at the heart of the PA profession. 
Over the years, PA students' backgrounds began to morph from military medical experience to college graduates with nonmilitary health experience choosing PA as their profession. I believe we started to lose some of our commitment—and founder Dr. Eugene Stead's vision— to find a role for these highly trained, independent practice corpsmen and medics.  
However, the wars in Iraq and Afghanistan again brought attention to the corpsmen, medics and pararescue operators who were highly trained and once again back in the civilian environment looking for ways to capitalize on their training.  
As a part of its mission, the Duke PA program continues to seek ways to increase veterans' presence in the PA profession. Through funding from a HRSA grant, the program established a veterans liaison program to support veterans who are interested in becoming PAs, and veteran alumnus Michael Steigerwald, Jr., MHS, PA-C ('12), leads this project. Steigerwald is implementing initiatives to support the transition of veterans to the PA profession; not just medically trained veterans, but also other talented veterans, such as a former Navy submarine officer and a former Marine Corps fighter pilot.   
Duke now has its fourth class of five military veterans involved in the veterans liaison program. Serving as the lead mentor for Duke's Veterans Mentoring Project, I have been mightily impressed with the competence, leadership and drive exhibited by our students and those at other PA programs. I can't help but think that if Dr. Stead was able to see what's occurring, he would give us a shout-out.  
Returning attention to our military roots while also growing an outstanding panel of diverse, inclusive young men and women as Duke PA students, I can see that our students reflect the faces and lives of America today. They are being trained to contribute to our health care system with the most powerful medical tool developed in a century: physician assistants.
Veteran Alumni: Become a Mentor 
If you are a veteran graduate and would like to be more involved with the Duke PA program, we invite you to consider becoming a mentor to incoming Duke PA student veterans or being available to pre-PA students who need shadowing experience. Contact Michael Steigerwald, Jr., MHS, PA-C ('12), at michael.steigerwald@duke.edu for more information. 
---
Return to 2021 Alumni Magazine