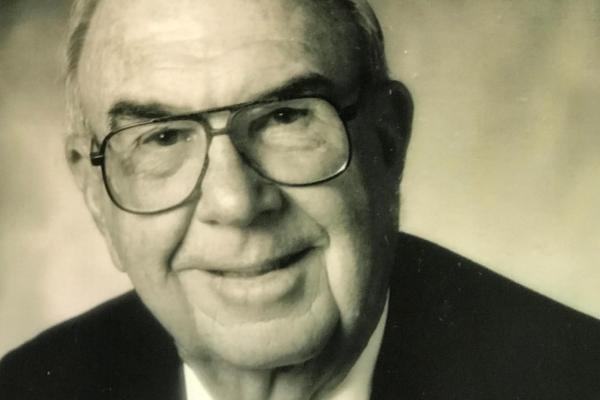 Remembering a Member of the Greatest Generation
Robert Malone Rosemond (1924-2018), Class of 1953
Every summer Robert (Crusty) Malone Rosemond, AB'49, MD'53, HS'53, P'82, P'86, P'86 would take his friends to an isolated fishing camp in the wilderness of Northern Ontario, Canada. Among them were Ralph Snyderman, MD, former chancellor for health affairs, and Bucky Waters, former Duke men's basketball coach and vice chancellor for alumni affairs and development at Duke Medical Center. 
"We would fish all day for four days, and at night we would prepare a meal, sit around the fire, and tell stories," recalls Snyderman. "Crusty was a member of the greatest generation not only in the United States, but also at Duke. He was one of the most intense, loyal, enthusiastic, and energetic Duke Medical Center supporters I ever knew, and of all the things he accomplished professionally, he was most proud of graduating from Duke." 
Rosemond passed away on July 21, 2018, in Sanford, Florida, at the age of 93. Born in Charleston, South Carolina, in 1924, he served in the naval air corps during World War II as an electrician's mate, flying PBY planes over the Pacific Ocean. 
He received his undergraduate and medical degrees from Duke, where he also completed an internship in internal medicine. He met his wife, Sally, P'82, P'86, P'86 at Duke, and they began their journey of 64 years.
After residency trainings at Emory University and the Veterans Affairs Hospital in Atlanta, Georgia, Rosemond completed a cardiology fellowship at the Medical College of South Carolina.  He started a private practice in cardiology in Sanford, Florida, in 1958 and continued working until he retired in 2018. His sense of humor, listening ear, and comfortable style endeared him to the thousands of patients he cared for during his 59 years of practice. He always had a joke or a story to ease the pain, and he made medicine fun. 
Each year in the fall, Rosemond traveled to his hunting camp in the Colorado Mountains, where he enjoyed memorable experiences of fun, friendship, and camaraderie. He also loved being home with his family and the many friends who came to visit. 
Bucky Waters couldn't figure out why Rosemond got the nickname Crusty. "He was the warmest and most caring person I've ever been around, and he always was so willing to help. Crusty had a great sense of humor, and he was a joy to work with." 
Waters fondly remembers the T-shirt that Rosemond gave him at a banquet at the end of his year as president of the Davison Club. The shirt summarized Rosemond's experience working with Waters. "He turned around and on the back of the shirt it said: 'Leadership is lead, follow, or get the hell out of the way.'" 
Rosemond treasured the lifelong friendships he developed as a member of the Kappa Alpha fraternity. He served as president of the Duke Medical Alumni Association and the Davison Club, chair of the Half Century Society, and as a class agent. He was a member of the Alpha Omega Alpha (AOA) Medical Honor Society and received awards for distinguished leadership and volunteer service.
Determined to make a difference in the lives of others, Rosemond and Sally chose to make an estate gift. Upon both of their passing, the gift will endow the Dovie Rosemond Endowment Fund in Cardiology in memory of Rosemond's mother.   
Rosemond is survived by his wife, Sally Rosemond; his children, Richard (Rick), AB'82, MD'86, Cheryl (Cherie), G'86, and James (Jim); and five grandchildren, who all share his passion for nature and the outdoors. 
---