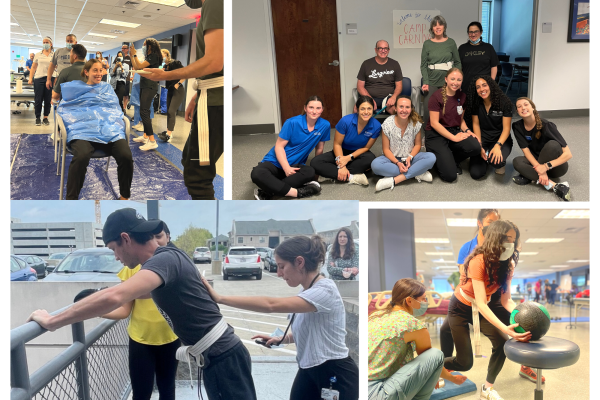 It's been 20 months since Raleigh resident and full-time private chef Aaron Vaughen sustained an injury to his brain that impacted his vision, speech, and movement down his entire right side. It's been a long, windy road back, filled with supportive people and programs. 
 
Earlier this month, Vaughen was one of 10 participants in Duke's Doctor of Physical Therapy Division's week-long Durham Neuro Camp. He started the intensive week – held April 3 through 7–with big goals. By working closely with faculty, clinicians, and students for more than six hours every day, he thrived. 
 
"Our focus is on helping our participants maximize their function and quality of life. This experience provides participants with an opportunity to have an intensive rehab experience while also helping to teach our students," said Jody Feld, PT, DPT, PhD, who directs the annual Durham Neuro Camp.
 
Studies show that individuals with neurological conditions benefit from their initial rehabilitation during hospitalization but can continue to improve physical function through post-discharge therapy.

Held at the CORE (Collaboration, Outreach, Research, and Education) Lab at Erwin Square Durham Neuro Camp serves volunteer participants with neurological conditions like stroke, traumatic brain injury, spinal cord injury, and Guillain Barre Syndrome. Some area participants are uninsured while others have long exhausted their physical therapy benefits before achieving their desired movement and functional goals.  
 
Each day, 20 DPT students under the supervision of faculty and licensed clinicians (PT, OT, SLP) conducted evaluations, prepared evidence-based interventions, and treatment plans, and led daily group activities, as part of the students' advanced practice course.
 
Since Vaughen's August 2021 brain event, he faced complications that lengthened his road to recovery.  Durham Neuro Camp, along with other local programs, provides him with the physical and mental tools he needs to continually improve.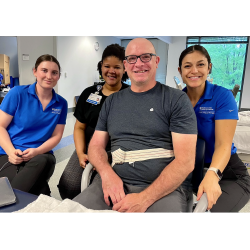 "I've been in therapy for a year and a half, and I am still not done," explained Vaughen. 
 
Eager to get back into the kitchen, Vaughen found a way to start cooking again, first with the help of a nurse, and now, on his own. He's quickly becoming known as the Single-Handed Chef on YouTube through videos he's made to help others, who have similar limitations, cook.  
 
Vaughen said the Durham Neuro Camp gave him new ways to challenge himself and ideas for exercises he can do at home. 
 
"It's amazing, not only the therapists and students but the people that are here as well. The way we all pick each other up and the way we have all improved just in five days has been impressive," he said.  
 
His goal was to jump, which he did 10 consecutive times.  "I thought, maybe I will get (to jump) a little bit and I was actually able to clear air," he said. The Neuro Camp team helped him practice walking unassisted across different outdoor landscapes to simulate sand so that he can achieve his goal of walking unassisted on a beach this summer. 
 
Neuro Camp student teams worked with an individual with a recent spinal cord injury, another who had a stroke less than a month ago, and two area residents with young families.   
 
Feld said the Durham Neuro Camp also provides vital psychosocial benefits.
 
"At the end of each day, they do a group activity and a group reflection.  So, part of this experience brings people together. People with neurological injuries or conditions can feel very isolated. Participants get to see that there are other people going through the same or similar challenges." 
 
Vaughen said he's enjoyed connecting with the other participants. 
 
"There is so much encouragement in this room," he said.  
 
Watch the Single Handed Chef at Neuro Camp, including his jumps. 
---