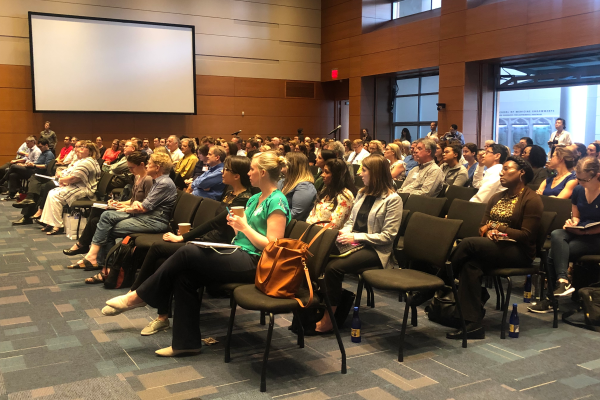 About 200 faculty and staff attended the research town hall, International Research at Duke: Overcoming Challenges and Finding Success
A panel of Duke faculty presented their stories of successes and challenges with international research collaborations. Secondly, a panel of administrative leaders provided guidance on the complex regulatory aspects of international collaborations
Links to the presentation slides and recording are listed at the end of this post
International research collaborations are an integral part of Duke. According to Duke Global, Duke faculty and students teach, learn, and conduct research in 150 countries across the world, as a result of 177 agreements between Duke departments, international universities, NGOs, hospitals and foundations. Duke Global Health Institute, Duke School of Medicine, and Global Initiatives are well-known for their global research dimensions. However, there are many other programs at Duke which engage internationally, such as Bass Connections, Duke Engage, Duke – UNC Rotary Center, Duke at Home in the World, Student Athlete Civic Engagement, or Study Away. They are all ambassadors of Duke's missions for enhancing global learning, healthcare, & innovation, as well as broadening the social impacts of research. And, with missions of global scope, there arises responsibility for maintaining integrity across a diverse spectrum of global collaborations.
Here are some of the key features for successful international collaborations:
Legal and regulatory: Partnering with legal and regulatory advisors at Duke and analogous counterparts at collaborating institutions early on will minimize the potential for unexpected, and required, process changes during implementation.  Research projects will run more efficiently when in compliance with US and international laws and regulations.
Intercultural competency and relationships: Successful collaborations rely on good personal, professional and community relationships. Taking the time to develop intercultural competency, language translation, and cross-cultural empathy will improve project work flow for all parties involved.
Academic and research culture: Being aware of and navigating differences between US and local academic/research values are key for managing successful collaborations, especially with regard to research roles definition and authorship decisions.
International research site resources management and capacity building: Allow for additional planning and building of additional research sites that take into account potential differences in available resources, infrastructure and skills ahead of project implementation (e.g., differences in building structures, internet accessibility, or transportation options, but also expertise and skills in contracting, recruiting, management, writing, etc.). The International Ethical Guidelines for Biomedical Research Involving Human Subjects of the Council for International Organizations of Medical Sciences (CIOMS) state that "in externally sponsored collaborative research, sponsors and investigators have an ethical obligation to ensure that biomedical research projects for which they are responsible in such countries contribute effectively to national or local capacity to design and conduct biomedical research, and to provide scientific and ethical review and monitoring of such research. Capacity-building may include, but is not limited to, the following activities: • establishing and strengthening independent and competent ethical review processes/ committees • strengthening research capacity • developing technologies appropriate to health-care and biomedical research • training of research and health-care staff • educating the community from which research subjects will be drawn".
Data management, analysis and sharing: International collaborations mean sharing data and physical resources across potentially large physical distances, so it is important to find good couriers and planning a safe data transfer strategy.
Effective communication: It is good practice to maintain effective and continuous communication between domestic and international research teams, despite long distances, different calendars, and varying communication methods. For example, communication around attribution of intellectual credit and authorship among the research teams must be undertaken in a way that promotes equity to all parties involved.
Intellectual Property and Licensing: Discussions around licensing and co-licensing of intellectual property can be challenging for any collaboration. When intellectual property is shared across country borders, additional international regulations need to be followed. Also, the expectations for licensing should be discussed early in the process. 
Read next article on Navigating International Research collaborations with guidance from Duke research support offices
---