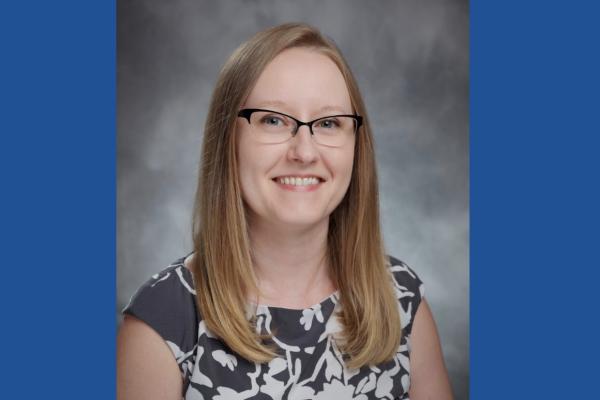 Duke University School of Medicine is committed to creating a more equitable environment. Effectively assessing progress and sharing data are ways to help make sure leaders reach that goal. That's where Rebecca Redmond, PhD, comes in. In this month's EDI Spotlight, Redmond shares about her unique role as director of assessment and research in the Office of Equity, Diversity and Inclusion. She discusses how her passion for diversity work first began and gives us a glimpse into the resources and tools that she's helping to develop — all in an effort to enhance transparency and accountability and better show the impact of the school's EDI efforts. 
What is your current position within the Office of Equity, Diversity and Inclusion? What does a typical day for you look like?
As the director of assessment and research, I oversee and facilitate the sustainable monitoring of strategic equity, diversity, and inclusion (EDI) goals, progress, and outcomes for the School of Medicine. I partner with colleagues across the School of Medicine and the greater Duke campus, including the university and health system, to embed assessment practices into EDI strategies and organizational processes. Assessment practices help us to engage our constituents in understanding the impacts of initiatives and programs, by gathering input on experiences through surveys and focus groups, analyzing institutional data on diversity for patterns and trends, and connecting programming to shifts in our culture, as examples.
What I find most enjoyable about my role is that my workdays are varied and a meaningful part of my day is spent in creative work, including the design of evaluation strategies, keeping up with the latest studies on EDI in academic medicine, and exploring data on our diversity and culture. Additionally, my typical day involves collaborating with colleagues with diverse skills and backgrounds within my office and across Duke, providing opportunities to learn, share, and grow.
Why is research and assessment an important component of equity, diversity, and inclusion (EDI) work? 
Research can help to inform the direction of EDI strategies by identifying outcomes and progress measures, and assessment practices help us to understand impacts at individual and collective levels. It's my view that organizational change strategies should be designed with outcomes in mind. Assessment practices also help us to understand our community's engagement and the felt impacts of EDI efforts. Ideally, we're proactively hearing from our community how our efforts are being felt.
Why is transparency in reporting diversity data important to advancing EDI? Why should the School of Medicine make this data easily accessible? 
Regarding data transparency, the data that we share with our community should speak to the areas that our people care about the most and that lead to directional conclusions and actionable areas for change. Transparency is key for accountability and showing our progress and for cultivating trust with our community. While there may be limits on the content of what we can share, we're taking steps to make important data and tools more accessible.
What tools or resources are you working on to help the school be more transparent with diversity data? How will these tools and resources help school leaders as they develop EDI strategies and strive to make the school more equitable and diverse?  
We're excited to release a new resource to help support EDI strategy assessment, development, and enhancement — the EDI Data Navigator Guide. The guide, which can now be found on our website, is intended to support School of Medicine leaders and their teams in developing and refining EDI strategies and plans through deep analysis of existing data. It provides summary information and links to key data resources available at Duke and points to contacts for further questions and more information.
This year, we will also launch an EDI Dashboard on OEDI's website, which will show School of Medicine trends in diversity and culture metrics. The purpose of this dashboard is to heighten transparency and link change metrics to our organization's EDI initiatives.
How did you first become interested in EDI work? 
As a sociologist by training, my expertise is in the study of social inequalities. During my time as faculty, I became interested in organizational efforts to advance EDI and desired a role where I could apply sociological methods and insights to this work. 
What passions or hobbies do you have outside of work?
In my free time, I enjoy spending time with my family, hiking in the Western North Carolina mountains, cooking and baking from scratch, live music, and travel.
---