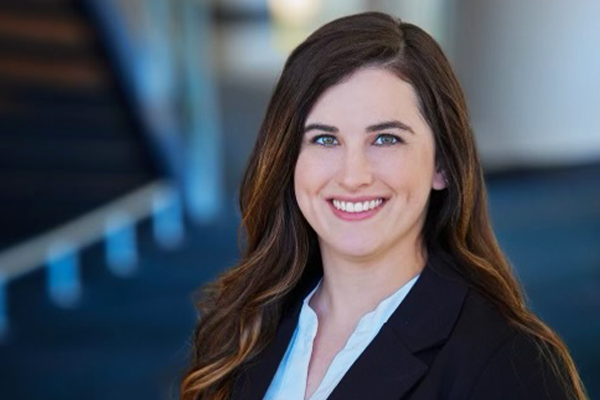 Students who are the first in their family to pursue higher education or are from a low-income background encounter many challenges and barriers, such as not being able to pay for study materials, find mentors who understand their experience, or feel a sense of community. Also, without family members who have gone to medical school or college themselves and can offer guidance based on experience, students are often left feeling overwhelmed and isolated. Fourth-year medical student Mary Moya-Mendez, MS, MHS, knows of such challenges firsthand.  
In this month's EDI Spotlight, Moya-Mendez shares what motivated her to get involved with a Duke University School of Medicine organization aimed at helping students with a first generation and/or low income (FGLI) background navigate medical school. She also recounts how an event sponsored by the organization positively impacted her and other students and describes how she "finally felt at home in medical school" after being paired with a mentor who shares a similar background. 
What are your current responsibilities as an MD/MHS student? What does your typical day look like?  
One of the great things about the Duke School of Medicine curriculum is the dedication to research and how easy it is to become invested in a project. I was able to extend the allotted research year by one extra year and obtain an additional degree in Master of Health Science in Clinical Research. I was incredibly fortunate to receive scholarships and funding to make it possible for me to complete this additional program. For my MHS program, I worked in a basic science lab studying heritable pediatric cardiac arrhythmias by using induced pluripotent stem cells to study differences in intracellular calcium handling and membrane potential between cells with certain genetic variants and cells without those genetic variants. I also led an international, multicenter registry study to assess electrocardiograms and the presence of cardiac problems present in a certain genetic disease group. I graduated from the master's program in May 2023.  
Now, I've transitioned to my final year of medical school, which currently consists of completing sub-internships in the field which I'm applying into for residency, which is general surgery. At Duke, I've completed a sub-internship in the surgery intensive care unit, where I gained experience taking care of critically sick patients recovering from a surgical intervention or complication. I also completed a sub-internship within the minimally invasive and bariatric surgery division of general surgery where I had an awesome experience learning about surgically managing patients with large, complex abdominal hernias and different weight-loss surgical techniques. Next, I will complete a sub-internship in pediatric surgery where I will learn how to take care of kids both inside and outside of the operating room. I'm really excited for this experience because pediatric surgery is the field of surgery which I am most interested in right now.  
How did you first become interested in science and what motivates your scientific research now? How do you hope to use science in your future career?  
I think my love for science began when a loved one experienced medical challenges, and I remember feeling empowered by learning about the background pathophysiology, why certain medications were being used, and rationale for why complications were occurring. My decision to apply into medical school came later in college when I realized how much I loved being a part of patient care and that my most meaningful research experiences were ones where I was combining patient-centered health care with scientific research. Doing scientific research is extremely rewarding because the goal of every scientist is the same: helping treat a disease or process that afflicts human beings like you and me every single day. And the scientific hypotheses, questions, and experiments grow out from that like branches of a tree.  
Often times, the people with the diseases that are being studied are sick for a very long time and may not be able to advocate for new treatments or advancements for themselves or their loved ones. But I can help advocate on their behalf with the science and hard work that I do. The opportunity to help someone who is struggling with a disease, diagnosis or problem that will only be advanced forward with science is an amazing and humbling thing to be a part of. I think my strong science background and experiences with conducting research will be useful in my future career as a surgeon. After completing surgical training, my goal is to co-run a basic science lab alongside another scientist so that we can combine our knowledge and skills to answer questions about diseases impacting children. 
What plans (if any) do you have for after you complete your medical degree? If you could have any job in the world, what would it be?  
I am applying into residency in general surgery in the 2023-2024 application cycle, so after I complete my final year of medical school, I hope to attend a general surgery residency program that aligns well with my personal and career aspirations. My dream residency program is one where I can learn and be humbled every day in a supportive environment that fosters development and mentorship, and constantly reminded about what a privilege it is to operate on people when they are at their most vulnerable and need care. Right now, my dream job would be to work as a pediatric surgeon scientist at an academic institution that values patient care, research and innovation, and rigorous surgical training. 
Do you have a moment or experience when the need for improving equity, diversity, and inclusion in academic medicine felt especially urgent to you personally that you could share?  
A lot of my observations regarding the need for improving equity, diversity, and inclusion in academic medicine are from a collection of experiences, data points, and reflections. If I had to point to one moment, I would describe an event that the Duke First Generation and Low-Income in Medicine Association (FGLIMed) held on September 14, 2022. The premise was simple yet powerful: we asked faculty members who identified as being the first person in their family to complete higher education and/or come from a lower socioeconomic status background to serve on a panel and invited medical students, residents/fellows, and other faculty to attend, ask questions, and benefit from reflection in a safe space amongst others who identify as being from a shared background.  
One of the most unexpected things to happen as a result of the event is that every single faculty panelist, and many of the faculty and residents in attendance in the audience, were so grateful and appreciative of the opportunity to share and discuss aspects of their background that dramatically impacted their training experience, mental health, and perspective, such as struggling to afford groceries, increased feelings of isolation, and lacking generational privilege. I think because this background identity is an invisible one, it can be challenging to reflect and discuss aspects of it without a dedicated space filled with people who can understand the experiences and challenges being described. 
At the beginning of the event, we asked those in attendance to complete a survey to understand the unique barriers and challenges associated with being from a first generation and/or low income (FGLI) background and pursuing a medical degree. The survey was insightful and alarming in revealing obstacles experienced by medical students, and how some of these obstacles persist and result in altered experiences and perspectives in residents and faculty members. To give an example, medical students who identified as being from a FGLI background voiced difficulty with finding mentors who can relate and understand their unique barriers to success, experienced financial challenges that students feel significantly and frequently impact their educational success, and endorsed feeling isolated due to their background in a way that meaningfully impacted their mental health.  
Tell us more about how Duke's chapter of the First Generation and Low-Income in Medicine Association (FGLIMed) got started. What has the organization meant to you?  
The journey for a student from a first generation and/or low income (FGLI) background is fraught with unique challenges. Beginning with college, FGLI students experience barriers which include, understanding the college application process; financing college and completing forms such as FAFSA and loan applications; finding a community, mentors, and support systems; balancing family, school, and part-time/full-time job responsibilities as many students must work during college; and lacking the cultural and social capital that are important to more easily navigating college. If an FGLI student is able to statistically "beat the odds" and make it into medical school, they will continue to experience persistent barriers and challenges that are unique to this background.  
These reasons are why the Duke First Generation and Low-Income in Medicine Association (FGLIMed) chapter was started in the summer of 2020 by four prior Duke medical students: Allison Rhinehart, Rafeal Baker, Sabrena Myers, and Nicky Chung. This group serves medical students who come from low-wealth backgrounds and/or are the first in their families to pursue higher education by providing mentorship opportunities, professional development events, and volunteer opportunities.  
As someone who is the first person in their family to pursue higher education and comes from a low socioeconomic status background, I never thought I would make it into medical school. When I received the call from Duke School of Medicine telling me that I had been selected for admission, I was convinced they had dialed the wrong number and asked the person on the other end to say my first, middle, and last name several times to make sure. And once I arrived, I felt isolated because most of my peers weren't experiencing the same barriers that I was experiencing, mostly related to financial difficulties, generational knowledge, and privileged jargon. My isolation furthered because my family could not relate or understand my day-to-day experiences and viewed me as becoming part of a system which they did not trust due to previous negative medical experiences stemming from lack of medical insurance. A career in surgery wasn't even on my radar because I couldn't comprehend someone like me even graduating medical school, let alone completing a surgical residency and fellowship.  
The first year of the Duke First Generation and Low-Income in Medicine Association (FGLIMed) chapter, we created a mentorship program where FGLI-identifying medical students were paired with FGLI-identifying faculty members. I was paired with a mentor who is an abdominal transplant surgeon. The first time I met with her in fall of 2020 was the first time that I finally felt at home in medical school because she saw me for who I was and not only understood, but related to my experiences, emotions, doubts, worries, and dreams on a personal level. This was also the first time that I saw someone from my background in the role of a surgeon which was a powerful and extremely important experience for me. Since then, I've been fortunate enough to find more mentors and role models in the Duke Department of Surgery who also identify as coming from a FGLI-background. These mentors have played a fundamental role in validating my experience, supporting me throughout obstacles and challenges related to my background, and invariably inspiring me that someone from our background can not only graduate from medical school, but pursue a career in surgery. 
---