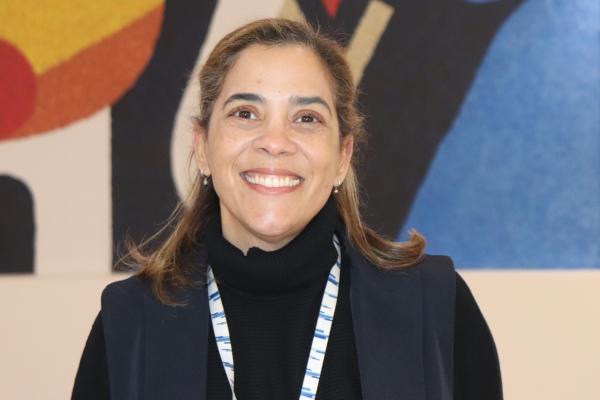 When Leonor Corsino, MD, MHS, came to Duke as an Endocrinology, Metabolism, and Nutrition Fellow in 2006, she had a clear vision of her future as a physician-scientist working to address care, health outcomes, and health disparities for Latino and Hispanic populations. But that vision grew after both School leadership and isolated medical students approached Corsino, asking her to also help improve representation and belonging for Latino and Hispanic students, faculty, and trainees within the School of Medicine.
In the 17 years since, Corsino has taken an integrated approach in her duties, working to improve belonging and engagement for all members of the School of Medicine, understand and address health disparities for Latino and Hispanic populations, and reduce racial barriers for incoming students and trainees. In this month's EDI Spotlight interview, Corsino talks about her work in each of these roles. She also shares tips for time management, advice she wished she'd received as a trainee, and her passions for interior design and time with family when she's not at Duke.
What roles and responsibilities relating to equity, diversity, and inclusion (EDI) have you had or currently have within the Department of Medicine and the School of Medicine?
I don't have any official EDI-related titles for the School or Department of Medicine at the moment, but I worked closely with the leadership in programs to foster inclusion, equity, and diversity within my department and school. I was the Associate Chair for the Department of Medicine's (DOM) Minority Recruitment and Retention Committee (MRRC). In this role, I started the DOM Latino Initiative to increase Hispanic/Latino presence in our department. I also served as a Diversity Strategist in the School of Medicine's Office of Equity, Diversity, and Inclusion (EDI), formerly known as the Office of Diversity and Inclusion (ODI). I also served as the Associate Director for the School of Medicine's Faculty mentoring training office; in this role, I worked towards improving mentoring at the school with one goal to improve mentoring of a diverse workforce.
I am also currently an Associate Dean for Students Affairs in the School of Medicine's MD Program, Co-Director for the CTSI Community Engagement Research Initiative (CERI), and an Associate Director for the School's Master of Biomedical Sciences (MBS) program.
What EDI-related initiatives are you currently working on?
I continue my work as the Faculty Advisor for the School of Medicine's Latino Medical student association (LMSA) chapter. In this volunteer role, I work closely with the LMSA leadership in advising initiatives and strategies to increase Hispanic/Latino representation in the student body, fostering inclusion and community for those enrolled in the school.
As Co-Director for CERI, I lead the Population Health Improvement awards, the E-library, educational programs, and consultations; this work focuses on improving our community/population health, expanding research-ready communities and community-ready researchers, and facilitating partnerships and collaborations.
I am a co-investigator in the NIH-sponsored PROMISE study (Peer Group Research On Mentoring Scientists Underrepresented in biomedical research) and the Duke REACH Equity (Duke Center for Research to Advance Healthcare Equity) Development and Pilot testing of an Implicit Bias Training Intervention for Providers to Advance Equity in Healthcare.
Your research focuses on health disparities for diabetes, obesity, and related complications, especially among Hispanic/Latino populations. What research projects are you currently working on in this area?
I am working on several projects related to health disparities. One project we concluded in January of last year, and we are currently working on the manuscripts, is a Transition of Care Model from Hospital to Community for Hispanic/Latino adult patients with diabetes funded by the NIH/NIDDK Albert Einstein New York Regional Center for Diabetes Translational Research that aims to develop a new transition of care for patients with diabetes to ameliorate 30 days emergency department visit and unplanned readmissions post hospital discharge. Another project I continue to remain active as an affiliated investigator is the NIH-sponsored Hispanic Community Health Study/ Study of Latinos; in this project, I collaborate with investigators around the county in the largest epidemiologic study of the Hispanic/Latino population in the U.S.
What are some of the underlying reasons for these disparities?
There are many reasons for these disparities, including limited access to health care, the impact of social drivers of care, racism, poverty, and discrimination, among others.
In addition to your work mentioned above, you're also involved in improving student equity through the School of Medicine's Masters of Biomedical Science and Postbaccalaureate Research Education Program (MBS PREP) programs. How did you come to be involved in each of these programs?
I was invited to join the MBS program back in 2015. I joined as an Associate Director and selective coursework coordinator. We created the MBS PREP program three years ago to support students strongly considering a career as an MD/PhD, DO/PhD, or PhD. This program is supported by Chancellor A. Eugene Washington, MD, and Dean Mary Klotman, MD. The program's goal is to diversify the workforce and increase the representation of minorities in sciences.
Do you have a moment or experience when the need for improving equity, diversity, and inclusion in academic medicine (or the country as a whole) felt especially urgent to you personally that you could share?
One of the critical moments for me was upon my arrival at Duke in 2006. At the time, there needed to be more representation of Hispanics/Latinos at all levels. I was also approached by the very few Hispanic and Latino students and residents who felt isolated and lonely, looking for community. Realizing I was one of the few motivated me to pursue this path.
How do you balance many projects and tasks relating to EDI while maintaining your physician-scientist and leadership duties?
All my work comes from my passions and purpose; I work on projects that, in some way or another, are closely connected to my ultimate personal goal. With that in mind, as I get older, I am more intentional about time management and organization to accommodate those programs and projects while fulfilling all the expectations of my roles.
What's one piece of advice you'd want to share with a student, trainee, or junior faculty member who wants to follow you into the EDI sphere?
My main advice is to follow your heart and work on projects that inspire and motivate you each day. Find opportunities to connect your work with your life purpose. For some, their purpose might not be 100% clear, but if you engage in activities that keep you motivated, that purpose will become more transparent and clearer over time.
What passions or hobbies do you have outside of Duke?
I am a mother of two small children. They keep me very busy outside work, but when time allows, I enjoy interior design. I love to be surrounded by organized, visually appealing spaces that project calmness and warmth.
---