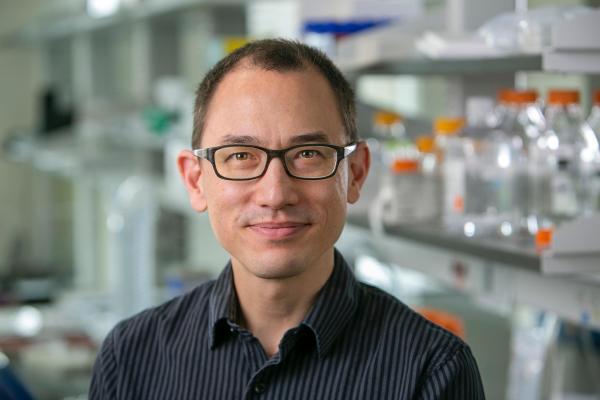 Ed Miao, PhD, sees his role as Director for Equity, Diversity, and Inclusion (EDI) within the Department of Immunology as a natural extension of his other responsibilities. Teaching, mentoring, and maintaining a research lab allows him to see opportunities to improve equity across the Department; that same work to improve equity also makes him a better professor. For this month's EDI Unit Leader Spotlight, Miao talks about working with members of his EDI committee to make lasting structural change within the Immunology Department. He shares how intentionally listening to his constituents can profoundly make an environment more welcoming and outside of work professes his love of playing board games with his wife and children.
The EDI's Delegates are a group of more than 50 leaders in Equity, Diversity, and Inclusion from across the School of Medicine. Read June's Spotlight interview with Annise Weaver, PhD, here.
What is your current position within the Department of Immunology? What does a typical day for you look like?
I am a Professor in the Department of Immunology.  Perhaps the majority of my time is dedicated to talking with the graduate students and postdoctoral fellows in my lab about their research, reading papers related to their projects, or other of the myriad tasks involved in maintaining a lab where they can explore their projects. My next largest mission is promoting equity, diversity, and inclusion throughout our department. Finally, I also enjoy teaching students in the classroom setting.
Do you have an official EDI-related title, and if so, what is it? If you have a role like this, how does it complement your other responsibilities?
I am the Director for Equity, Diversity, and Inclusion in the Department of Immunology. This role actually folds into all my other roles in the department. It makes me the person who is responsible to think about equity in all the different facets of how our department functions. My primary functions here at Duke are to drive forward the research of my lab and my department, and these are only achievable when we create an equitable culture where diversity is embraced and all the people in our department are included.
When and how did you begin working to improve equity, diversity, and inclusion within Duke? When did you first become an EDI delegate?
My department chair, Mike Krangel, asked me to fill this role for the department in 2021, and I immediately agreed. I saw the importance of the mission, and I thought that I would be able to contribute to it. In that effort I rely on our departmental EDI committee, who are a team of people who are truly dedicated to this effort. I have found especially the grad students and postdocs on our EDI committee have the most dynamic and creative ideas to advance the cause.
What are some of the current issues relating to equity, diversity, and inclusion within the field of immunology, and how do they compare to the same issues within academic medicine in general?
I think the issues are the same ones faced by all research-focused basic science departments. We live in a world shaped by the historic inequities of our past, but I think now our society is striving towards equity. Change is difficult, it takes time, and often we may be impatient. In my opinion, striving for equity requires a lifelong commitment that joins actions that can be taken immediately with patience to maintain the mission for the long haul.
How is the Department of Immunology currently working to address those issues?
Our EDI committee has placed a strong focus on changing the culture of the department to make it more equitable and welcoming. We are shedding old habits such as the idea of teaching by browbeating in our public forums; we now aspire to create an environment where everyone feels respected and encouraged to participate. 
One of the ways that anyone can show that they respect others is to actually listen to them. I think one of the shining points of progress for equity in the department is that our Chair organized a monthly meeting between graduate student representatives and the faculty leadership. These informal meetings allow simple questions to be asked, and often these uncover important issues that need to be addressed. Sometimes it is the small things, like simply meeting once a month to listen, that creates an ongoing iterative process of long-term improvement in the departmental climate. In fact, if you are reading this, I have one simple suggestion that you can do to change the climate in your workplace. 
The simple statement "I want to create an equitable, diverse, and inclusive workplace" can have an immense impact on individuals from historically repressed groups. Simply posting a sign that states your motivation can tells everyone that Duke is a place where they are welcome. To facilitate this, our EDI committee created a door sign that can anyone can print and post in their workplace here at Duke, or anywhere. It can be found at the following link (scroll to "Safe Space Placard"), feel free to share it with anyone!
We are also dedicated to educate our department about how to create an inclusive workspace. To do this, we hosted speakers from the Duke Center for Sexual and Gender Diversity and the Duke Office for Institutional Equity within our seminar series to educate the department about the issues faced by our community members who are from historically repressed groups, including LGBTQ+ and Black, Latino, and indigenous people. We hope to continue to host them every semester in the years to come.
Do you have a moment or experience when the need for improving equity, diversity, and inclusion in academic medicine (or the country as a whole) felt especially urgent to you personally that you could share?
Structural racism is real. Over the course of my career before coming to Duke I served on a committee that created rules that appeared to be equitable. However, when those rules were put into practice there was a disparate impact on under-represented groups. The effect was severe, and actually had a major impact on the careers of several trainees. When I recognized that I had participated in a system that inadvertently created and propagated structural racism, I was deeply ashamed. I felt that I owed a debt to promoting equity in basic science research training. This calls me to strive to create an academic environment that is equitable in reality, not just in name.
What passions or hobbies do you have outside of work?
I am dedicated to my wife and two children, who are 9 and 12 now. Over the past two years we've spent a lot of time together and, to be honest, I am thankful to the pandemic for giving me that time with them. We love to play board games together, our favorites are Gloomhaven, Root, and Cosmic Encounter. If you recognized these, 100 nerd points for you!
---