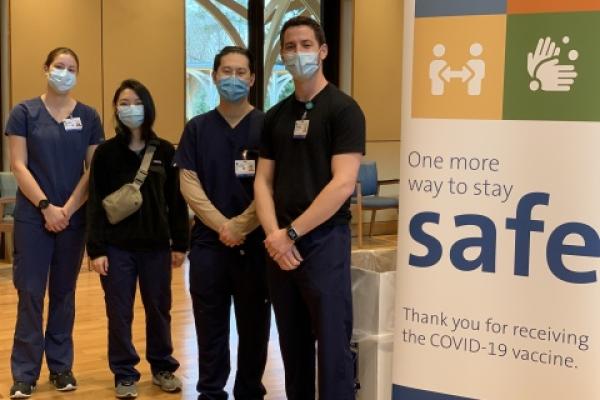 Volunteerism sits at the heart of the Duke Physician Assistant Program.
During an average year, students participate in events such as the Stead Tread, to raise money for Lincoln Health Center and its dedication to underserved populations in Durham.  Students shave their heads to raise money for pediatric cancer research with St. Baldrick's Foundation. Each October there is a day of service to honor the birthday of the profession's founder, Dr. Eugene Stead, and National PA Week. During the day of service faculty, staff, and students go out in the community to lend a hand to many different local charities. Later in the year, students team up to create props and costumes for a fun, but educational, presentation at an elementary school in Durham.
Though various canned food, clothing, and change drives are also part of the volunteer landscape for the Duke PA program, the majority of opportunities require in-person service time -- something not allowed at this stage of the COVID-19 pandemic. 
Rather than sit on its laurels and wait for better days, the Duke PA program looks for opportunities that fit both its mission and the needs of the community during the pandemic. 
In waning days of the previous academic year a group of students worked with the Durham County Public Health Department on contact tracing. 
Recently, more than 50 PA students signed up to volunteer in local vaccine clinics. 
"Getting a safe vaccine developed was the first hurdle," says first-year student Austin Graydon. "Now the medical community has to pull together to mobilize all these vaccines. I'm honored and humbled to be a part of this massive effort, and eager to see our community inch closer towards herd immunity."
According to a recent Duke University School of Medicine news story, "Student volunteers have played a number of roles, including registering patients, educating patients about the vaccine, preparing and administering the vaccine, and observing vaccinated individuals for any immediate side effects. Students as well as other volunteers receive training and are overseen by a credentialled health care professional. All volunteers also are eligible to get a COVID-19 vaccine."
First-year student Rachel Hurst says, "My time volunteering at the vaccine clinic has been incredibly rewarding. The staff leaders are very understanding and flexible, and there are many different jobs to accommodate volunteers from all backgrounds – everyone can help! It has been amazing to play a small part in this historic effort."
For a group of people who are planning to dedicate their life to health care, the sometimes second-row seats they have to take as students in the pandemic can be disheartening. Volunteering to fill pandemic-related needs gives students a chance to be a part of the solution.
Even though first-year student Jessica Woodling was a front-line worker early in the pandemic, "volunteering in the vaccine clinic made me feel like I was finally fighting COVID-19 head on for the first time."
---