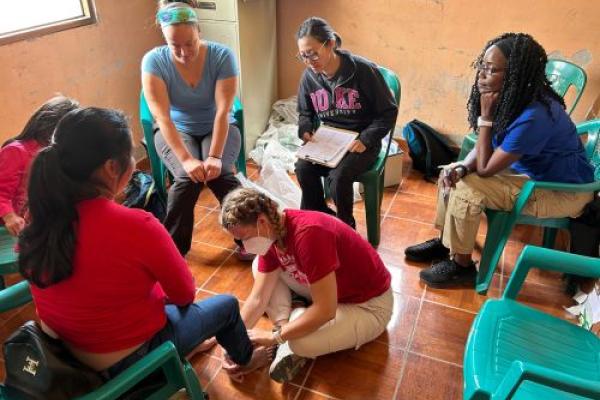 Second-year DPT students, Brenna Hammer, SPT, LAT, ATC, and Noelle Cedeño, were part of a School of Nursing and School of Medicine trip to Honduras.  The team served individuals who live and work in Santa Cruz Lempira and La Laguna.
The Duke team -made up of PT, nursing, and medical students – provided evaluations and treatments for underserved populations, ranging in age from a few months old to 90-plus years.
Many of the people works as laborers and that kept students busy working on shoulder, neck, low back, and knee pain. They also had opportunities to educate about biomechanics, while being culturally informed and aware of the area's limited resources.  
"I think the thing that I reflect on the most is how great of an opportunity it was to experience interprofessional and to be able to learn from our disciplines what their goals and priorities for patients are. Additionally, it was a good challenge to figure out how to eval and treat patients with very limited supplies and resources," said Cedeño.
Hammer said it was interesting to work with local doctors and nurses and to see how healthcare operates in different cultures.
In their free time, the duo explored the Mayan Ruins of Copan, went zip lining, and toured a bird park. 
---