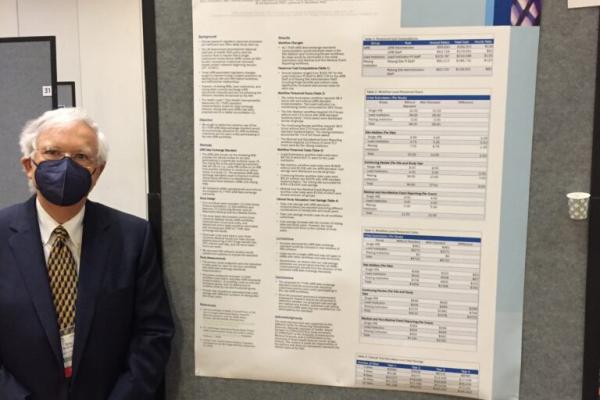 Dr. Eric Eisenstein presented results at the AMIA Summit March 22, 2002 from research conducted in a Duke Center for Health Informatics pilot study. The study, titled  Economic Analysis of a Single Institutional Review Board Data Exchange Standards in Multisite Clinical Studies, demonstrated that the use of the proposed HL7® FHIR® sIRB data exchange standard could be economically attractive for sIRB workflows collectively and for each entity participating in new sIRB workflows. Additional cost savings may be possible from sIRB tasks that are modified but not eliminated using standards.
The study was funded by the National Center for Advancing Translational Sciences, National Institutes of Health, Award Number UL1TR002553-S to Duke University and UL1TR003107 to the University of Arkansas for Medical Sciences.
Authors were Eric L. Eisenstein, DBA , Lawrence H. Muhlbaier, PhD, W. Ed Hammond, PhD, Vivian L. West, PhD (Duke University); Katrina Donovan, MA, and Feliciano B. Yu, Jr., MD (University of Arkansas for Medical Sciences, Little Rock, AR); Meredith N. Zozus, PhD (University of Texas Health Science Center at San Antonio, San Antonio, TX); and Anita Walden, MS (Oregon Health & Science University, Portland, OR).
---