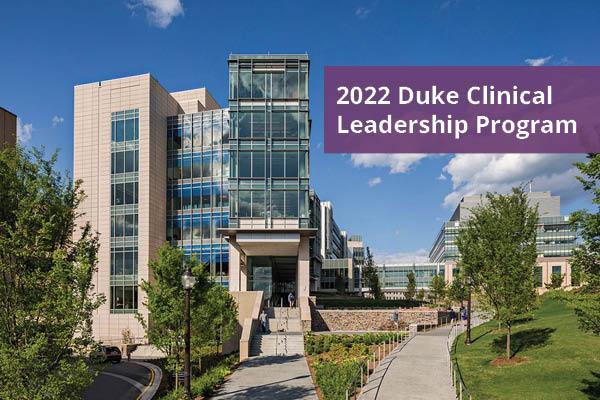 The School of Medicine Office for Faculty is pleased to announce the 2022 Duke Clinical Leadership Program (DCLP) participants.
The Duke Clinical Leadership Program was founded by the Chancellor for Health Affairs in 2010 to help expand leadership capacity within DukeHealth. The program provides faculty with an opportunity to deepen their awareness of healthcare operations and to develop relevant leadership skills. The program is run by the School of Medicine Office for Faculty with the enthusiastic support of Chancellor Eugene Washington. Program fellows are introduced to leaders from the Health System, School of Medicine, School of Nursing and Fuqua School of Business. 
Faculty in this program were competitively selected to participate. Congratulations to the 2022 DCLP participants!
2022 DCLP Cohort:

John Carney, MD, Pathology
Bruce Derick, MD, Surgery
Matthew Ehrlich, MD, Neurology
Jacob Feigal, MD, Psychiatry

Gregory Fleming, MD, Pediatrics
Jennifer Gilner, MD, PhD, Obstetrics and Gynecology
H. Tierney Grandis, MD, Family Medicine and Community Health
Christopher Gratian, MD, Anesthesiology

Michael Harrison, MD, Medicine
Scott Hollenbeck, MD, Surgery
Amie Kawasaki, MD, Obstetrics and Gynecology
Vijay Krishnamoorthy, MD, PhD, Anesthesiology

Robert Lark, MD, Orthopaedic Surgery
Milta Little, DO, Medicine
Tarig Muzamil Ali-Dinar, MD, Pediatrics
Kitty O'Hare, MD, Medicine and Pediatrics

David Ortiz-Melo, MD, Medicine
Caroline Ozment, MD, Pediatrics
Nadia Pasha, MD, Medicine
Jennifer Plichta, MD, Surgery

Brenda Poirier, MSN, PPCNP-BC, Psychiatry
Jennifer Rothman, MD, Pediatrics
Valerie Sabol, PhD, MBA, Nursing
Shreyansh Shah, MD, Neurology

Lauren Siewny, MD, Surgery
Laurie Snyder, MD, Medicine
Martha Snyder, MD, Pediatrics
Emily Sterrett, MD, Pediatrics
---