1970s
Douglas Huber ('71) was Oklahoma's Rural PA of the Year in 2013. He also set the record on Antiques Roadshow in 2012 for five Chinese rhinoceros horn carvings. Huber graduated first in his class from the U.S. Navy Hospital Corps School and was awarded three air medals while serving U.S. Marine Corps in Vietnam.
Chuck Shimer ('73) and his wife Jeannie celebrated their 60th wedding anniversary on Nov. 19, 2020. They continue to enjoy their retirement in Largo, Fla.
Elizabeth Blackmon Jobe (' 76) retired in July 2019 after working in internal medicine at The Lumberton Medical Clinic for 32 years and for 10 years at Robeson Digestive Diseases Clinic in Lumberton, N.C.
Steve Nagle ('76) and his wife, Kathie, relocated from Danville, Pa., to Cross Keys Village - The Brethren Home Community in New Oxford, Pa., in August 2020.  
1980s
Jeanne Lenzer ('80) is currently a medical investigative journalist and author. Her articles and commentary on medical issues have been published in The BMJ, the Washington Post, Atlantic, Mother Jones, New York Times, Smithsonian, and Scientific American. She has also appeared on NPR and a number of television news outlets. Lenzer's book, "The Danger Within Us," was published by Little, Brown in December 2017. Her current interest is training younger medical investigative journalists who are covering the COVID-19 pandemic.
Lynn M. Vander Woude ('84) has been serving for 20 years as a full-time volunteer PA in the South Pacific island Kingdom of Tonga. She extends the reach of government health services by visiting villages and remote islands in her work with the nonprofit Youth With a Mission.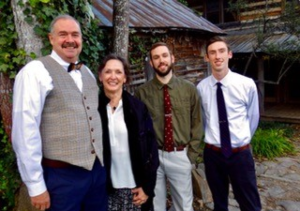 Jane Jevons ('86) retired from her 34-year career in dermatology in August 2020. Her husband, Edwin Cowey ('86), retired from orthopedics three years ago. They continue to reside in Vermont near their two sons and have kept active during the pandemic with boating, hiking, e-biking, pickleball and skiing.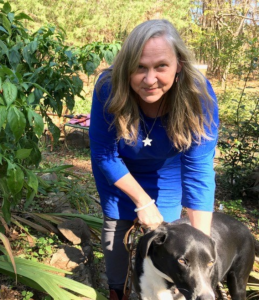 Kerstin Nygard ('89) retired from Wake County Human Services on Dec. 31, 2020, after more than 31 years of service in public health. She cared for uninsured and underinsured residents of Wake and Durham counties in North Carolina in a variety of public health clinics including family planning, child health, migrant health and obstetrics. Nygard found her calling in public health obstetrics, where she spent the majority of her career. Through the COVID-19 pandemic, she and her colleagues worked diligently and safely to provide both in-person clinical care and telephonic care to pregnant women of Wake County.
1990s
Randall Gauvin ('91) retired from clinical practice in March 2020 after working for 28 years in the emergency department of Franklin Memorial Hospital in Farmington, Maine. Prior to retirement, he spent many years as the coordinator of emergency preparedness for the hospital and was instrumental in producing one of the first hospital plans for the original bird flu pandemic. For the past 26 years, Gauvin has volunteered to provide medical coverage as a bicycle medic for the American Lung Association's Trek Across Maine bicycle tour and is also a volunteer on the Maine Medical Task Force, which provides medical care for events throughout the year. He is an amateur radio operator (KB1RDG) and is on the local Amateur Radio Emergency Service team.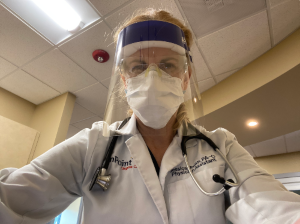 Jessica (Finley) Brown ('99) has been a practicing PA in Colorado since graduation. She spent the first 11 years of her career in family medicine and then worked in the emergency department between 2010 and 2017. Brown earned a Certificate of Added Qualification in Emergency Medicine and joined the OnPoint Urgent Care team in 2017. She has cared for COVID-19 patients throughout the pandemic. Brown and her husband, Todd, who is also a PA, have three children.
2000s
Colleen Tetzlaff ('04) is the current president for the Association of Physician Assistants in Oncology (APAO), a constituent organization of AAPA. Her term began July 1, 2020, and runs through June 30, 2021.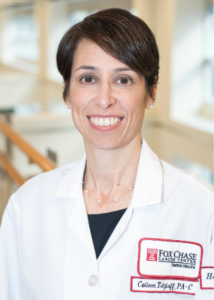 Robert Bednar ('05) earned his Doctor of Medical Science (DMSc) in August 2020 from the University of Lynchburg in Lynchburg, Va.
Angela Richardson ('06) proudly reported the birth of her second grandchild, Henry Richardson Hauser, born on Christmas Day 2020.
Carlos Suero ('09), along with two other Duke PA graduates, Megan Montagne ('14) and Erica Hinteregger ('13), were redeployed from their regular duties at Brigham and Women's Hospital from March 2020 to July 2020 to the Respiratory Illness Clinic (RIC) in Boston to assist patients with respiratory illness due to COVID-19. They were three out of four PAs to staff the RIC, and Suero describes it as the most collegial and collaborative experience of which he has been a part.
2010s
Georie (Briggs) Long ('10) and her husband, Tracy, welcomed their daughter, Vaeda, on Aug. 24, 2020. She joins big brother, Nikolai.
Samantha Kwan Verruto ('10) and Sheeva Marvdashti ('17) work as PAs on the Duke Health Breast Surgical Oncology Team, which collectively received a Presidential Award for exceptional service to the Duke community during the 2018-2019 academic year. The annual employee appreciation award is given to select individuals or groups working in Duke University/Duke University Health System that "demonstrate a commitment to Duke's values of respect, trust, inclusion, discovery, and excellence."
Rachel Cline ('11) welcomed baby Elliott James Cline on Oct. 25, 2020.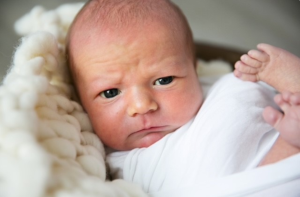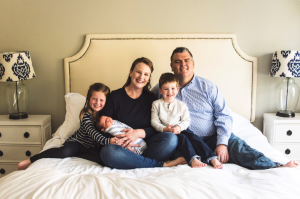 Lacee (Leach) Wilkinson ('11) and her family welcomed their third child, Beck Christopher Wilkinson, on Sept. 14, 2020.
Sarah (Hall) Cooper ('12) married Paul Cooper in August 2020. She currently works at the Indiana Hemophilia and Thrombosis Center in Indianapolis and focuses on patients with pediatric sickle cell disease. 
Andrew MackNair ('12) is a captain (CPT) in the Massachusetts National Guard and has been activated since March 2020 as part of the state's response to the COVID-19 pandemic. He has been working closely with fellow guardsman CPT Jose Corporan-Reyes ('06).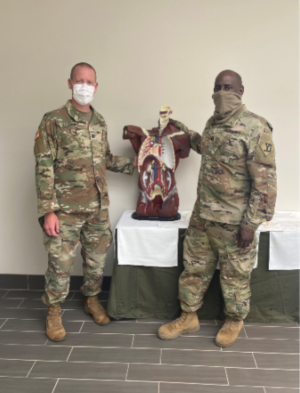 Terri Y. McGuire ('13) is currently serving on the Community Health Needs Assessment and Health Education Curriculum Advisory Committee in Montgomery County, Md. She and her husband, Donté McGuire, welcomed their second child, Kash Amari McGuire, on Aug. 3, 2020. 
Bethany Applebome ('15) and her husband, Ben, welcomed their daughter, Lily, on June 24, 2020.
Adam Cady ('15) and two colleagues have formed a nonprofit organization in Los Angeles which aims to bring more local people of color, specifically Black people, into the field of athletic training and sports medicine. To help engage others in support, collaboration, thought creation and action they began a podcast called "The AT Last Podcast" and a GoFundMe campaign titled "Increasing Ethnic Diversity in Athletic Training." For questions, comments or ways to support, email atlast@atvantagepodcasts.com.
Michael Clark ('15) has worked in primary and urgent care for five years. He currently works at Duke Primary Care in Hillsborough, N.C., and began precepting PA students in the fall of 2020.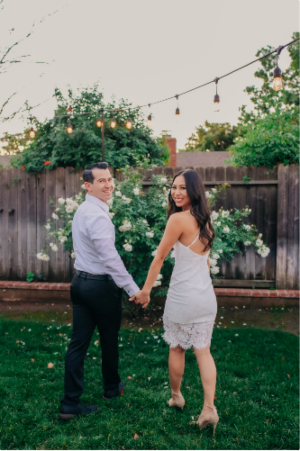 Alejandro Espino ('15) moved to Fullerton, Calif., in December 2020 and is working in an urgent care position at Kaiser Permanente in Baldwin Park, Calif. He married his wife, Ruby, on April 22, 2021, in Rancho Palos Verdes, CA.
Jenna Tenold ('15) currently lives on Marine Corps base Camp Pendleton outside of San Diego. She had her fourth child, a daughter named Meira, on July 30, 2020. She is currently staying home to support her husband's demanding career and care for their children.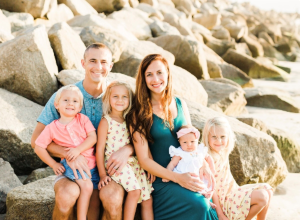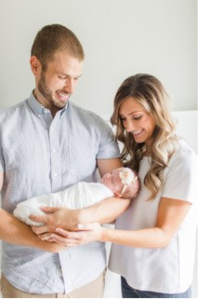 Kristen (Stockfleth) Mundy ('16) and her husband, Zach, welcomed their daughter, Collins Corinne Mundy, on July 17, 2020. Mundy currently works at Cary Orthopaedics in Cary, N.C.
Elizabeth (Flores Vera) Roberts ('16) was married to Douglas Roberts on Aug. 8, 2020, at a small ceremony at the Colorado Monument National Park. Their officiant was her Duke PA classmate Justin Frye ('16). Roberts continues to work in Salt Lake City, Utah, at the Hunstman Cancer Institute as part of the surgical oncology team for cutaneous malignancies.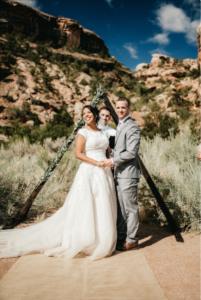 Scott Zeller ('16) and his wife traveled the world and explored 12 countries from September 2019 to March 2020 as a honeymoon trip. After returning, they moved from North Carolina to Denver, where Zeller began working at a direct primary care clinic called Paladina Health. He conducts COVID-19 testing and counseling on a daily basis with his patients.
Chris Beach ('17) accepted the position of training director of APPs for his employer, Emergency Physicians of Tidewater, in July 2020. His tasks include training and assessments of all new-hire PAs and the continuing education of all PAs. Beach and his wife, Rosanne, also welcomed their newest son, Greyson Edward Beach, July 8, 2020. He joins big brother Oliver.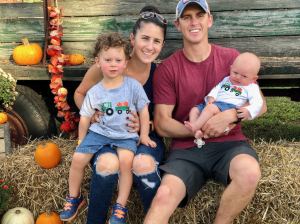 Lori Teraoka ('18) completed the Dartmouth-Hitchcock Cardiothoracic Surgical Physician Assistant postgraduate residency in Hanover, N.H., and then moved to Portland, Ore., where she now works at Oregon Health and Science University with the Division of Cardiothoracic Surgery. Teraoka was married on Feb. 21, 2020, to her partner, Stephanie Duarte.
2020s
Kiarash Rahmanian ('20) wrote a narrative for the newsletter of the Association of Prevention Teaching and Research (APTR), focused on his Paul Ambrose Scholar research project conducted as a student at Duke.
---