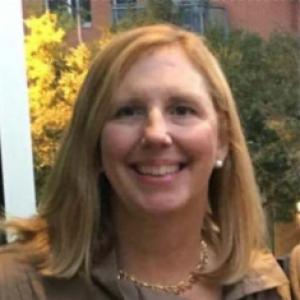 Associate Dean for Learning Environment and Well-being
As the Associate Dean for Learning Environment and Well-being, Dr. Nancy W. Knudsen will enhance the educational programs and environment for the School of Medicine and will serve as the academic leader for programs and strategies to assure positive learning environments for all aspects of health profession student education. She will be responsible for ensuring that the education programs occur in professional, respectful, and intellectually stimulating academic and clinical environments.
Dr. Knudsen is a Professor of Anesthesiology and Associate Professor of Surgery in the School of Medicine.  She served as Co-Director of the Surgical Intensive Care Unit (SICU) from 1998 to 2016 at Duke Hospital and most recently served as the inaugural Assistant Dean of Learning Environment for MD program 2017 to 2020.  Dr. Knudsen received her MD from the University of Missouri-Kansas City in 1991.  She completed both her residency (Chief Resident 1994 – 1995) in Anesthesiology (1995) and fellowship in Critical Care Medicine (1996) at Duke before joining the faculty in 1996.  She is a Diplomate of the American Board of Anesthesiology and subspecialty certified in Critical Care Medicine and Hospice Palliative Medicine.  She is active with Carolina Donor Services, as Chief Medical Director since 2005.  She is an active member with Simulation Education Network for the American Society of Anesthesiology. 
Dr. Knudsen has received multiple Strength, Hope & Caring Physician and Team awards from the Medical Center as well as being a member of the winning team at the 2016 Duke Health Patient Safety and Quality Conference Rebecca Kirkland Award for "The Patient Voice Approach: Informing SICU Care Redesign Through Patient and Caregiver Perspectives." In 2013, she was awarded the Leonard B. Tow Humanism in Medicine Award which is presented annually to a faculty member who demonstrates outstanding compassion in the delivery of care; respect for patients, their families, and healthcare colleagues; as well as demonstrated clinical excellence. The Duke medical students recognized Dr. Knudsen with the Golden Apple in 2015 for Clinical Faculty.  In 2020, Dr. Knudsen was the recipient of the Leonard Palumbo Jr., MD, Faculty Achievement Award which recognizes a member of the School of Medicine faculty who displays dedication to compassionate patient care and excellence in the teaching and mentoring of young physicians.