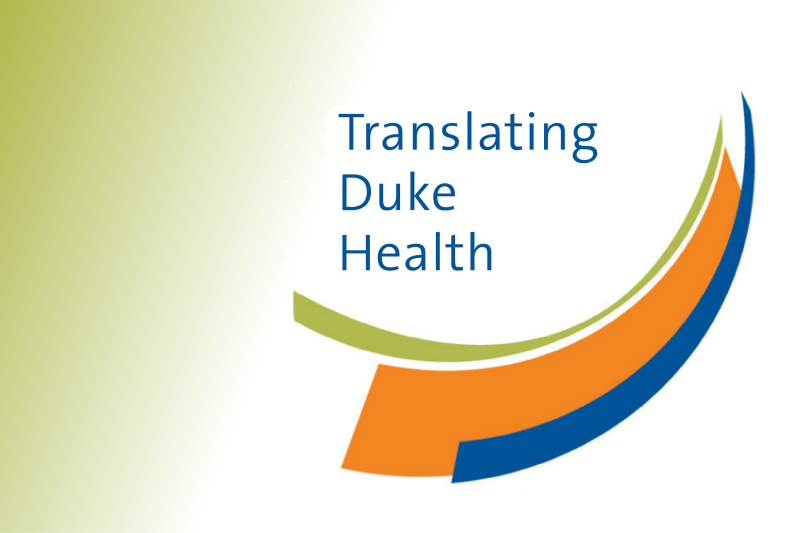 Duke Health leadership launched Translating Duke Health in 2017 as a multi-disciplinary, multi-year commitment to capitalize on Duke's collective strengths in research, clinical care, and population health to address major health challenges.
This article is the first of a series exploring how Translating Duke Health has changed the health care landscape at Duke. Learn more at Translating Duke Health
---
Translating Duke Health: Solid Tumor Brain Metastasis
The Duke Center for Brain and Spine Metastasis (DCBSM) is one of Duke's fastest-growing clinical programs. Launched in 2017 by Duke Cancer Institute in collaboration with Translating Duke Health (TDH) and the Department of Neurosurgery, DCBSM has become one of the most comprehensive destination programs in the country for treating the growing population of patients whose cancer has spread to the brain, spine, and other parts of the central nervous system. 
The DCBSM boasts more than 50 clinical specialists — including nurse navigators, nurses, physician assistants, medical oncologists, radiation oncologists, neurosurgeons, and palliative care and pain management specialists, as well as neuroplastic surgeons, neuroradiologists, interventional radiologists, spine experts, and physiatrists.  
Patients whose cancer has spread to the central nervous system require highly specialized and incredibly complex care.  
'Gold Standard' Care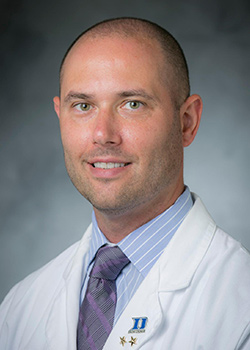 Navigation sets the tone for a patient's experience — a more than worthwhile investment, according to Duke Cancer Institute Executive Director Michael Kastan, MD, PhD, and neurosurgeon Peter Fecci, MD, PhD, director of DCBSM.  
More than 2,000 patients have thus far been navigated to care since the Center launched. 
Fecci calls it "white glove service" for "gold-standard" care.  
"What I think the newly diagnosed need most is somebody to say, 'I understand you're scared. I would be too. This is what we do all day, every day, and we're going to create a plan for you. And as long as you want us, we're going to walk this journey with you.' And then they just kind of breathe out. Then we can build a fantastic team around their particular needs," explains DCBSM nurse navigator Scott Pollard MSW, BSN, RN, an experienced oncology and neuro-ICU nurse and former social worker. "It's nice to feel confident in your team, knowing they're at the top of their game." 
The DCBSM team offers embedded palliative care and an inpatient consultation service; access to genomic testing and the latest therapies; specialized and technologically advanced procedures, surgeries, and scans; access to cutting-edge homegrown and national clinical trials; and review of their case by a multi-disciplinary team of DCBSM specialists. Once a patient's care team is assembled, it works with the patient to define goals of care and forge the best treatment path forward.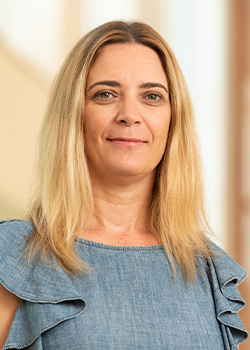 "To reduce stress for patients, we arrange for them to see all needed providers within 72 hours — all under one roof," says Natalie Ashley, BN, GradDipAdvn, who, with Translating Duke Health funds, was recruited to the DCBSM in early 2018 as the center's sole patient navigator/new patient coordinator and served as program manager from January 2020 until recently being succeeded by neurosurgery physician assistant Brice Painter, PA-C, MHS. 
Ashley drew on her experience in Australia as a nurse navigator to help grow the patient navigation team from a team of one (herself) to a team of three, including a new-patient coordinator and two nurse navigators. 
"Our navigation team understands the daily needs of our patients and their loved ones and how to guide them through the complex cancer care system — from addressing barriers to access, to educating them about planned and potential treatments, to providing emotional support. They bring together all the moving pieces of a patient's care plan and bridge any gaps throughout their cancer journey," says Ashley.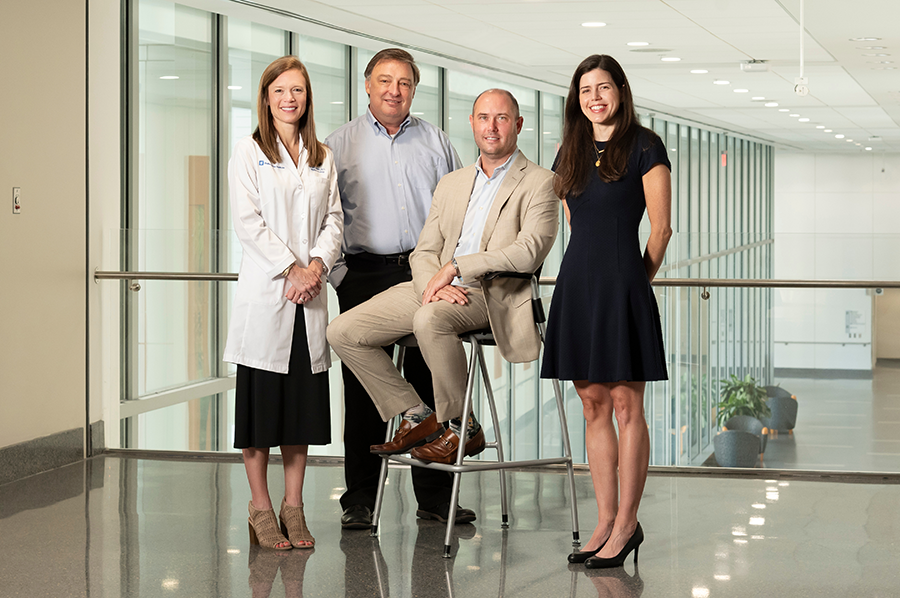 'We Feel Very Secure in Their Hands' 
Janel Keaton, mother of four and grandmother of six, has been a DCBSM patient since being diagnosed with metastatic breast cancer, including to her ribs and spine, in late 2020.  
After finding "a great oncologist with a great reputation" close to home in Roanoke, friends urged Keaton and her husband Troy to pursue a second opinion from a research facility.  
"We were able to get into Duke within a week of our request," says Troy. "We were amazed by the level of care."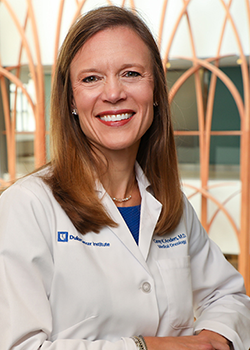 Carey Anders, MD, a nationally recognized specialist in breast cancer that has spread to the central nervous system, took the lead on Keaton's case. Recruited to Duke with start-up funds from the TDH initiative, she joined Duke in January 2019 as a professor of medicine, Translating Duke Health Scholar, and medical director of the Duke Center for Brain and Spine Metastasis.  
"Janel was very symptomatic and on a rocky course when I first saw her in clinic," recalls Anders.  
She worked closely with Keaton and her local oncologist at the Blue Ridge Cancer Center on a treatment plan and ensured that Keaton could continue her anti-cancer infusion treatments there. Keaton sees Anders every three months or so for their restaging, treatment decisions, and next steps. 
In addition to Anders and nurse navigator Pollard, Keaton has at least four other DCBSM specialists managing her case — a multidisciplinary group of providers who've deployed treatments and procedures to ease her pain, improve her mobility, and control her cancer. 
Since last summer, Keaton has attended both of her sons' weddings, welcomed her fifth and sixth grandbabies to the world, and enjoyed mountain hikes and coastal cycling, thanks, in part, to the expert care team who have her back.  
As of May, she was responding well to treatment.  
"I have stage four cancer, and I know what that means," Keaton says. "But I also have a lot of life left in me and I have a lot to live for. We want to make this last as long as possible and with as good a quality of life as possible. So that's why we sought out the best treatment. Ultimately, it's in God's hands. He decides, but I do believe that he gives wisdom to doctors, the best doctors. We believe in that. We believe in medicine. We feel very blessed to be patients of Duke. We feel very secure in their hands." 
In mid-June, Keaton's scans revealed that for the first time since she began treatment her cancer had grown in her spine. Her cancer, Anders said, was "getting smarter and resisting treatment."  
Anders and team, who had already prepared for this possibility, reassured Keaton and her family that there were many "tools in the toolbox," including a clinical trial. When Keaton did not qualify for enrollment in the trial after a grueling week and a half of appointments and tests that included "a much-needed hug from a sweet nurse when things got a bit much," Anders worked out a way for her to receive the FDA-approved trial medication via infusion at her local oncologist's office. Keaton began that new treatment on July 8 and rounded out the month with road trips to South Carolina and Texas with her husband before joining all their kids and grandbabies in August for a family vacation in Tennessee. 
"We are thankful for the dedicated men and women who work tirelessly for a cure," says Keaton. "We are closer now than ever." 
Julie Poucher Harbin is a senior writer at Duke Cancer Institute. This article was adapted from a recent article on the Duke Cancer Institute blog "They've Got Her Back."