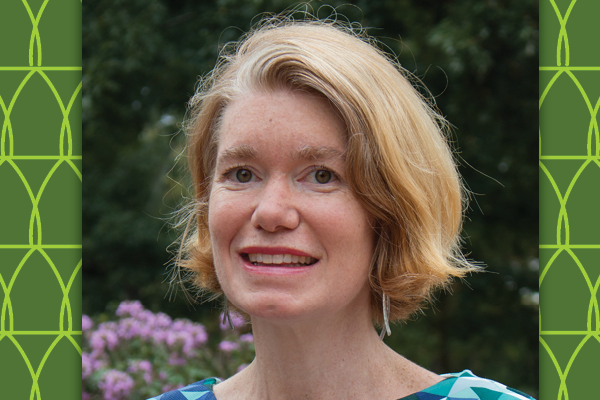 A brand-new Duke Science & Technology (DST) Scholar in the School of Medicine is one of four Duke faculty elected of the American Academy of Arts & Sciences (AAAS) for 2023. 
Amy S. Gladfelter, PhD, joined the School of Medicine faculty on April 13 and will be a full professor in the Department of Cell Biology after July 1. A Duke PhD alumna, she was recruited to Duke from the University of North Carolina at Chapel Hill as a DST Scholar.  
She is a Howard Hughes Medical Institute investigator who studies the cell biology of fungi and is working on understanding marine fungal systems. She uses a variety of microscopy and biophysical approaches, and her lab is in the Levine Science Research Center. 
Duke's other three new AAAS members are in the Sanford School of Public Policy: 
Abdullah T. Antepli, associate professor of the practice of public policy in the Sanford School and associate professor of the practice of interfaith relations in the Divinity School.  
Kenneth A. Dodge, PhD, William McDougal Professor of Public Policy in the Sanford School and professor of psychology and neuroscience in the Trinity College of Arts & Sciences.  
Margaret Sullivan, the Jack and Pamela Egan Visiting Professor in Journalism and Public Policy in the Sanford School of Public Policy.  
Duke's four newest AAAS members join a long list of notable AAAS members including President Vincent E. Price and historical figures John Adams, Benjamin Franklin, Alexander Hamilton, George Washington, Ralph Waldo Emerson, Maria Mitchell, and Alexander Graham Bell. Other distinguished members have included Margaret Mead, Jonas Salk, Barbara McClintock, John F. Kennedy, Martin Luther King, Jr., Aaron Copland, Martha Graham, John Hope Franklin, Georgia O'Keeffe, E. O. Wilson, Madeleine Albright, and Colin Powell.  
The academy's current members represent innovative thinkers in every field and profession, including more than 250 Nobel and Pulitzer Prize winners. 
"With the election of these members, the Academy is honoring excellence, innovation, and leadership and recognizing a broad array of stellar accomplishments," said Academy President David W. Oxtoby. "We hope every new member celebrates this achievement and joins our work advancing the common good."