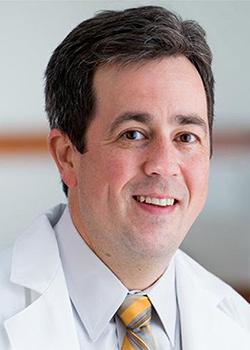 After a national search, Adrian Hernandez, MD, MHS, has been named Vice Dean and the new Executive Director of the Duke Clinical Research Institute (DCRI), effective May 15. 
In his role as Vice Dean and Executive Director of the DCRI, Dr. Hernandez will provide visionary and strategic direction to the Institute; support and strengthen its research and teaching agendas; and continue to raise its national and international profile. Among many key responsibilities, Dr. Hernandez will oversee the DCRI to ensure continuance of a broad spectrum of clinical research programs, clinical trials, clinical and pre-clinical education, and shared data and repositories.
"I want to congratulate Dr. Hernandez on this new role. He is a proven leader whose vision and knowledge will ensure the DCRI's continued success as a leader in clinical research," said Mary E. Klotman, MD, Dean, Duke University School of Medicine, in her announcement to faculty and staff. "I also want to extend my sincere appreciation to Lesley Curtis, PhD, who has served as Interim Executive Director of the DCRI since 2018. In addition to serving as Chair of the Department of Population Health Sciences, Dr. Curtis has provided outstanding leadership to the DCRI during this transition and has been instrumental in positioning it for continued success." 
Although Dr. Hernandez will step away from some elements of the Vice Dean for Clinical Research role he has held since 2017, he will maintain a leadership role in the Dean's Office for clinical research strategy. He will continue his oversight of the Duke Institute for Health Innovations (DIHI) and will participate in the School's leadership team for data science and AI Health.
Dr. Hernandez is a cardiologist and an internationally recognized leader in clinical research ranging from health services and policy research to clinical trials.  Before becoming Vice Dean for Clinical Research, he was a Faculty Associate Director of Duke Clinical Research and Director of Health Services and Outcomes Research at the DCRI.  He has served as the Steering Committee Chair or Principal Investigator of multiple large studies with goals to improve the health of patients with cardiovascular disease or diabetes. Dr. Hernandez has over 500 published articles and is an elected member of the American Society of Clinical Investigation and Association of American Physicians.