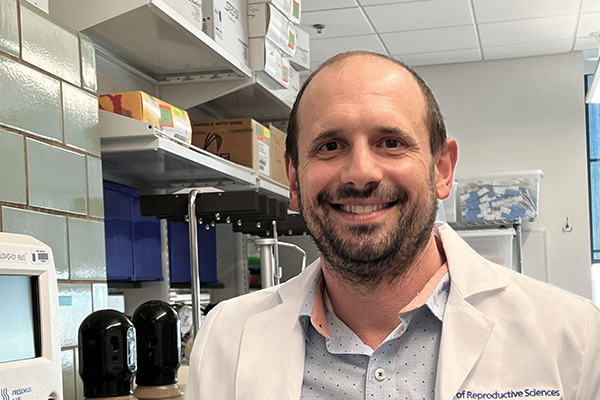 Anthony Filiano, PhD, assistant professor of neurosurgery at Duke University School of Medicine, is one of 10 recipients of the 2022 Hartwell Individual Biomedical Research Awards. Filiano will receive $100,000 a year for the next three years for his project, "Reviving Brain Myelination as a Curative Therapy for Leukodystrophy." 
Leukodystrophy refers to a group of devastating childhood disorders in which there is a breakdown of the white matter (myelin sheath) of the brain and spinal cord. Filiano's research focuses on Krabbe disease, which is fatal by the age of two to three years. There is currently no cure. 
Filiano's award from The Hartwell Foundation will support research seeking to identify toxic molecules in the cerebrospinal fluid (CSF) — the fluid that surrounds the brain and spinal cord — that potentially contribute to Krabbe disease.  
"Comprehensive CSF analysis has not been conducted in Krabbe disease," said Filiano. "Researchers in this field have only recently begun to think about how components of CSF contribute to disease progression." 
Further, the research will use a novel cell therapy developed by Filiano to try to determine if rejuvenation of the toxic CSF would promote the repair of the myelin sheath.  
If successful, Filiano's research could open a pathway to developing a cure for Krabbe disease.  
"Support from The Hartwell Foundation will allow me to leverage my expertise as a neuroimmunologist to develop novel cell therapies for children, allowing them to grow and reach their full potential," he said. 
Duke has been designated as one of The Hartwell Foundation's Top Ten Centers of Biomedical Excellence every year since 2006. Each year, the Foundation invites each Top Ten Center to nominate three researchers to compete for Hartwell Individual Biomedical Research Awards for early-stage, innovative, and cutting-edge biomedical research with the potential to benefit children's health.